Does Anyone Even Want to Buy Crude Oil From the U.S.?
President Obama opposes Congress moves to end four-decade ban

U.S. importing almost 7 million barrels a day, EIA says
Given current prices, does anyone even want to buy crude oil from the U.S.?
After the House Energy and Commerce Committee voted to end a four-decade ban on most oil exports, crude in the U.S. remains more expensive than foreign supplies and domestic demand is robust. Supporters of expanded exports, including Exxon Mobil Corp. and ConocoPhillips, say ending the ban would ease a glut from the shale boom and lower global prices. Refiners opposed to the legislation say it could increase gasoline costs for U.S. consumers.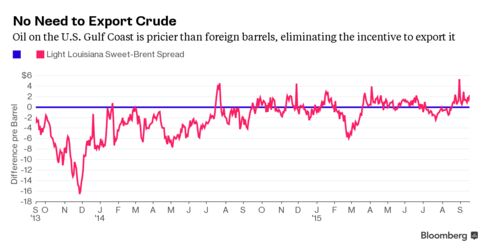 Lifting the ban won't lead to a big jump in shipments, at least in the short term, said John Auers, executive vice president at energy consultant Turner, Mason & Co.
Light oil in Louisiana was more than $2 a barrel more expensive Wednesday than Brent, the international benchmark, making it unattractive for overseas refiners seeking to capitalize on the shale boom. Refineries in the Gulf Coast have used record amounts of crude this year to feed the highest gasoline demand in eight years. U.S. net crude imports averaged 6.95 million barrels a day in the past four weeks, Energy Information Administration data show.
"This is the only country in the world with net imports of crude oil that's eager to approve exports," Tim Evans, an energy analyst at Citi Futures Perspective in New York, said by phone.
The legislation will now go to the full House of Representatives. Getting a vote in the Senate is more difficult. President Barack Obama opposes legislation allowing exports, White House spokesman Josh Earnest said Tuesday.
"It's never going to happen, the Senate will never pass it and Obama would veto it," said Mike Wittner, head of oil-market research in New York at Societe Generale AG. "It seems to be politically driven. This is going to turn out to be a tempest in a teapot."
Before it's here, it's on the Bloomberg Terminal.
LEARN MORE