Did the Dolans Just Call the End of Cable With Cablevision Sale?
Dolans sold Cablevision after building it for 37 years

`A bit unsettling' that they decided it's time to exit cable
Charles and James Dolan spent 37 years building Cablevision Systems Corp. into a telecommunications and media powerhouse. Over the last five, they have systematically dismantled it. If and when the $17.7 billion sale to Altice SA, announced Thursday, goes through, they will officially be out of the business of providing cable to customers.
The deal will be lucrative for the Dolans, who control about 72 percent of Cablevision's votes, and for their investors, who will get $34.90 a share, almost double the company's share price less than six months ago. It also suggests the Dolans think that the best days of cable are behind them.
The Dolans' timing has raised some eyebrows, given their extensive experience in the industry. "That the Dolan family has finally decided that now is the time to sell, after thirty years of feeling just the opposite, is perhaps a bit unsettling," Craig Moffett, of New York-based research firm MoffettNathanson LLC, wrote in a note to clients.
The pressure on cable companies has been growing. Cable providers have been losing TV subscribers en masse since 2010 as customers have cut service to watch video on cheaper alternatives such as Netflix Inc. and have switched to rival providers, including FiOS, DirecTV and Dish Network Corp. And the Obama administration has been threatening to regulate broadband, which could hurt profits if price increases are eventually capped.
Cablevision, specifically, has been facing increased competition from Verizon Communications Inc.'s FiOS service. The territory of the two providers overlaps significantly in the New York area, forcing Cablevision to compete on price.
Cablevision's Disintegration
Cablevision began its disintegration in 2010 with the spin-off of Madison Square Garden Co., owner of the New York Knicks basketball team and the New York Rangers hockey team. Shares of MSG, which the Dolan family still controls, have since gained more than 250 percent. Another spin-off, AMC Networks Inc, which began trading in June 2011, has more than doubled. The Dolan family remained in control of each, and today, their personal fortune is valued at $4.3 billion, according to Bloomberg Billionaires.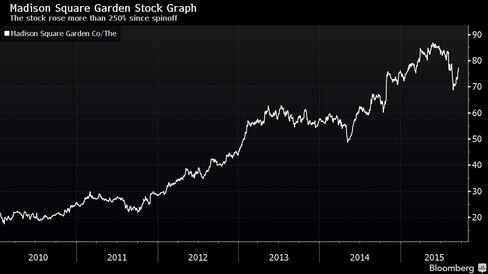 In 2013, Cablevision sold Bresnan Broadband Holdings LLC, a collection of Northwest U.S. cable assets, to Charter Communications Inc. for $1.6 billion, and MSG found a buyer for Fuse for $226 million and a 15 percent equity stake a year later.
The Dolans may also be looking to sell the cable networks they still own through MSG. That company plans to split into two on Sept. 30: One entity will own the sports teams and real estate, including Madison Square Garden and Radio City Music Hall, and the other will own its regional sports networks. The split paves the way for MSG to sell its cable networks to 21st Century Fox Inc. or Comcast Corp., Brandon Ross, an analyst for BTIG in New York, said in April.
While the Dolans unravel their cable business, others are betting that cable's best days may be still to come. Altice and Charter Communications Inc., which proposed to buy Time Warner Cable Inc. for about $79 billion, have paid rich multiples for their recent purchases.
Both AMC Networks and Madison Square Garden have "brighter prospects today than ever before," James Dolan said Thursday in a statement. AMC is in preliminary talks to merge with Starz LLC, according to people familiar with the matter.
James Dolan is in line to receive at least $128 million if he's dismissed as CEO after Altice acquires the company, according to company filings. If nothing else, the 60-year-old could have more time to devote to his band, JD & The Straight Shot, and to rebuilding the Knicks, who have posted a losing record 11 of the last 14 years.
Before it's here, it's on the Bloomberg Terminal.
LEARN MORE