Danoff Beats Market Over 25 Years With Old-School Stock Picking
Contrafund gains 13% annualized, versus 10% for U.S benchmark

Hard-to-please investors still redeem money throughout 2015
William Danoff took over Fidelity's Contrafund 25 years ago today. In hindsight, it would have been a good idea to invest with him at the time.
The $106 billion fund returned more than 13 percent a year over that stretch, compared with about 10 percent for the Standard & Poor's 500 Index. Put another way, $10,000 invested in Contrafund at the beginning of Danoff's tenure would be worth $217,000, more than double the $106,000 generated by the U.S. benchmark.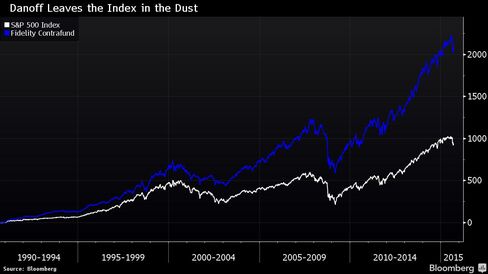 "Danoff has to be to be considered one of the greatest managers of his generation," said James Lowell, editor of fidelityinvestor.com, a newsletter that tracks Fidelity's performance.
Danoff beat the market the old-fashioned way, seeing hundreds of companies a year to identify what he calls "best of breed" businesses. He sends hand-written notes to the executives he meets and keeps an old notebook in which he stores the ticker symbol of each company he visits. In 2015 he is outperforming 95 percent of peers, according to data compiled by Bloomberg.
At a time when stock picking is out of favor, even a great long-term record isn't good enough to impress skeptical investors favoring index funds. Contrafund, which is up 3.5 percent in 2015, has experienced net redemptions every month this year, according to data compiled by Bloomberg.
Before it's here, it's on the Bloomberg Terminal.
LEARN MORE