Four chains answered open letter and will donate to charity

Companies will give away 1,500 sandwiches at Atlanta location
Burger King decided it didn't need McDonald's to create a "Peace Day" burger after all.
The company, which had contacted its rival last month about selling a hybrid Big Mac-Whopper burger, will move ahead instead with four other restaurant chains. The idea is for competitors to come together for one day and create a burger that combines ingredients from each of their menus. Burger King is using the event to promote Peace Day on Sept. 21.
"Since the beginning, the main objective of this initiative was to raise awareness of Peace Day," Fernando Machado, senior vice president for global brand management at Burger King, said in a statement. "We were overwhelmed by the goodwill of our fellow restaurateurs, and believe that working with them to create this once-in-a-lifetime burger is a beautiful twist of fate."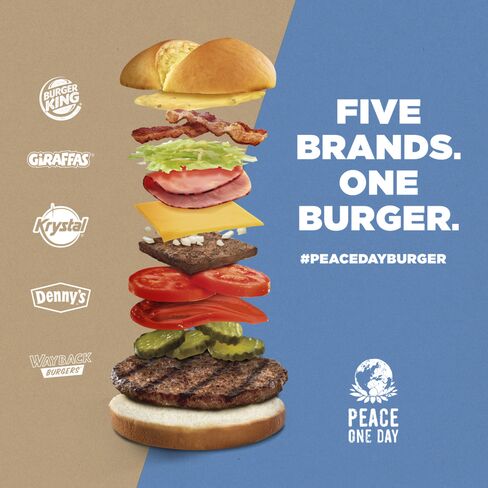 Burger King had initially sought McDonald's cooperation for the event, publishing an open letter to its longtime rival in August. After McDonald's Corp. Chief Executive Officer Steve Easterbrook gave Burger King's proposal a cool reception, the Miami-based chain decided to do it anyway.
Burger King wanted to join with McDonald's to create a "McWhopper," a sandwich that would have combined elements from the chains' signature burgers. Instead, Burger King is joining with Denny's Corp., Krystal Co., Wayback Burgers and Giraffas to create a hybrid burger. Those four chains quickly stepped in last month after Burger King reached out to McDonald's. They issued press releases and posts on social media indicating their willingness to participate.
There will be 1,500 hybrid burgers available free-of-charge at a Burger King location in Atlanta on Sept. 21. Burger King and the other chains plan to make separate donations to Peace One Day, a nonprofit that wants to make that date an "annual day of global unity, a day of intercultural cooperation on a scale that humanity has never known."
Before it's here, it's on the Bloomberg Terminal.
LEARN MORE