American Resumes Flights to Three Hubs After Computer Fault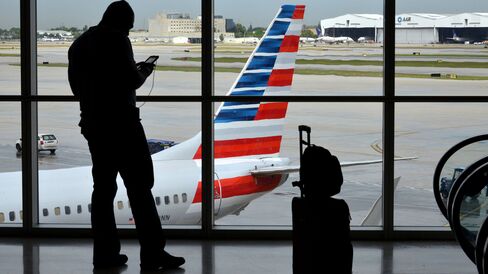 `We have resolved connectivity issues,' carrier says

Planes bound for Chicago, Dallas and Miami were affected
A computer failure at American Airlines halted flights to three of its largest U.S. hubs for almost two hours, slowing travel for thousands of passengers.
Planes bound for Chicago, Dallas and Miami were held at their departure airports from 12:30 p.m. New York time to 2:15 p.m., American said Thursday in a statement. The connectivity problems began about noon. American's website also was disrupted.
"We have resolved connectivity issues that led to a ground stop today at our Chicago, Dallas/Fort Worth and Miami hubs," American spokesman Casey Norton said in an e-mail. "We apologize for the inconvenience and are working to get our customers on their way as soon as possible."
The airline was still seeking the cause, Norton said.
Six regional flights were canceled as the airline worked to get its schedule back on track, American said, reversing an earlier comment that none were dropped. About 300 flights were delayed for an average of a little more than an hour. The fault didn't affect operations by American's merger partner, US Airways.
American will complete the last major step in combining the carriers when it shifts to a single reservation system on Oct. 17, almost two years after their tie-up created parent American Airlines Group Inc. On Tuesday, American opened a facility near its Fort Worth, Texas, headquarters that meshed its flight control operations with those of US Airways.
The computer failure was the second this month to snarl operations at one of the biggest U.S. carriers. United Airlines' website stopped working for 2 1/2 hours on Sept. 8, forcing passengers to use mobile applications and airport kiosks to check in.
Before it's here, it's on the Bloomberg Terminal.
LEARN MORE