Abe's Pension Cuts May Backfire on Japan
Austerity policy to cut debt reduces spending by the elderly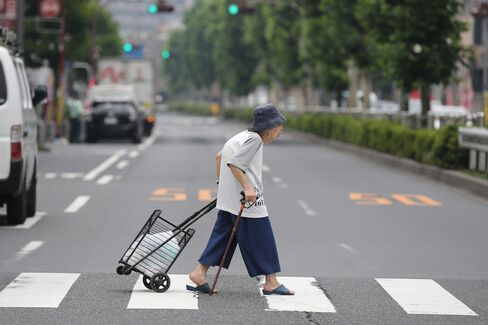 More than a year after a sales-tax increase tipped Japan into a recession, efforts to clamp down on soaring pension payments are suppressing a recovery in consumer spending.
The problem highlights how difficult it has been for Prime Minister Shinzo Abe to generate a sustained economic rebound for an economy with an aging and shrinking population -- amid efforts to rein in a world-record debt load.
Welfare payments are more and more important to people's income and pensions comprise about 80 percent of cash social security benefits in Japan.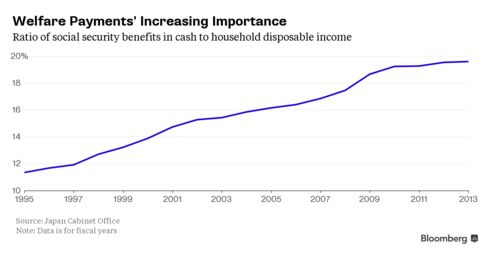 "Any increase in total pension payments may be limited to a gradual rise, relative to the increase in wages and prices," says Jun Saito, senior research fellow at Japan Center for Economic Research in Tokyo and a former official at the Cabinet Office. "Seniors may have less leeway to spend. That could be one of the reasons why private consumption is struggling to rise."
The government is raising the age at which people become eligible for retirement income and also cut payments in real terms in fiscal 2013 through 2015 to stop overpayments.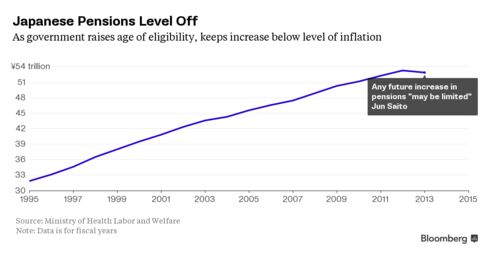 The age of eligibility for pensions for workers at private companies will rise to 65 for men by 2026 and by 2031 for women. You already have to be that age to receive the basic national pension. This means less money -- and less spending -- for those who are looking to join the ranks of the almost 40 million people in Japan who live on retirement income.
Despite the potential impact on spending, pensioners find themselves in the sights of cost cutters because at least in terms of spending power, they were winners as Japan suffered through years and years of deflation. Since 1999, benefits weren't cut as much as prices fell, and now the government is bringing them back where they should be, and even slowing the rise more than that.
Under Abenomics, stock prices have soared and household assets hit a record, but many have missed out on this "wealth effect" as they don't own securities.
The elderly are overwhelmingly dependent on pensions, and this may explain why they have been reluctant to spend, even as total assets have boomed.
Before it's here, it's on the Bloomberg Terminal.
LEARN MORE