Transnet to Dodge `Dollar Wilderness' for Debt as Rand Plunges
South African rail, ports operator seeks to raise $780 million

Currency volatility hitting demand for emerging market debt
Transnet SOC Ltd. Acting Chief Executive Officer Siyabonga Gama said the South African rail and ports operator will seek funds for expansion from local investors, avoiding offshore debt markets after the rand plunged to a record.
The state-owned company plans to raise 10.5 billion rand ($780 million) in debt including bonds before the end of the 2016 fiscal year, having obtained 17.3 billion rand since April 1, Gama said in a Sept. 10 interview at Bloomberg's offices in Johannesburg. Transnet will target the local bond market, export-credit agencies and development-finance institutions as it seeks money to invest in infrastructure, he said.
"I don't think anybody at this point wants to venture into a dollar wilderness, or a pound or euro wilderness," Gama said. "We've got quite a number of domestic sources. We will probably go into that market."
Transnet's decision to avoid offshore debt follows a 14 percent decline in the value of the rand against the dollar this year as an economic slowdown in China hurts currencies of commodity exporters. The currency strengthened 0.8 percent to 13.36 as of 2:17 p.m. in Johannesburg. The company is in the process of a seven-year, 336 billion-rand plan to upgrade South Africa's rail and port capacity and ease the export of raw materials and manufactured goods.
Yields on Transnet's $1 billion of bonds due in July 2022 have risen 30 basis points since the start of July to 4.99 percent. That compares with a 46 basis-point advance in yields of emerging-market transport companies' dollar-denominated debt, JPMorgan Chase & Co. indexes show.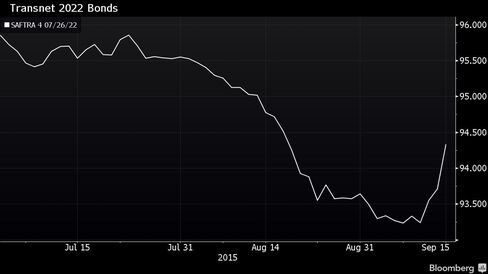 The volatility of emerging-market currencies is deterring investors from buying bonds issued by companies in those countries as investors seek stable and predictable returns, Werner Gey van Pittius, the London-based co-head of emerging-market debt at Investec Asset Management Ltd., said by phone on Tuesday.
"The foreign-exchange premium demanded by bond buyers rises -- theoretically at least -- when the volatility increases," he said. "In the current environment, the markets are simply not in a place where they want to stomach the risk."
While the weaker rand is prompting Transnet to avoid offshore debt markets, the currency's performance hasn't increased the cost of repaying existing foreign debt as that's fully hedged, Gama said.
Transnet is assessing whether it should extend the maturity profile of its bonds, which currently averages about eight years, he said. The company has a three-year, 3.3 billion-rand bond and a five-year, $750 million bond maturing next year.
"For working capital, there are specific requirements that need to be short-term," he said. "That's understandable, but the nature of our assets is such that they last 10 to 20 years. We need to do more longer-term bonds."
Before it's here, it's on the Bloomberg Terminal.
LEARN MORE