Things Are Looking Good for the Euro-Area Consumer
This bodes well for euro-area growth.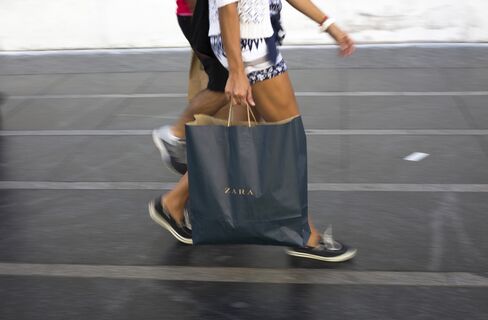 Largely absent in the years following the start of the financial crisis, the euro-zone consumer has recently been making a positive contribution to the region's growth.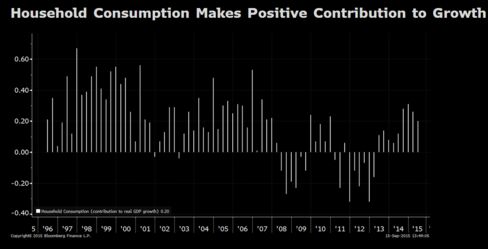 Bloomberg Intelligence economist Maxime Sbaihi has looked at the prospects for the consumer as a driver of growth in the currency area over the coming quarters. He found that low inflation, coupled with steady—albeit slow—increases in employment and wages, point to the consumer playing a larger role in euro-area growth.
With wage growth expected to remain close to current levels and inflation staying low, real wage growth will continue. Together with improving market conditions and confidence in the economy, this means consumers will spend more, rather than save, Sbaihi told us.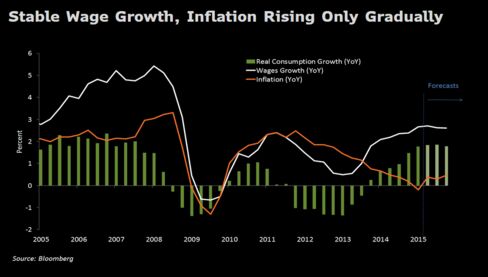 With households accounting for a bit over half of real spending in the economy, this trend can only be positive, said Sbaihi. He predicts that the sector will contribute 0.3 percentage points to growth in the second half of 2015.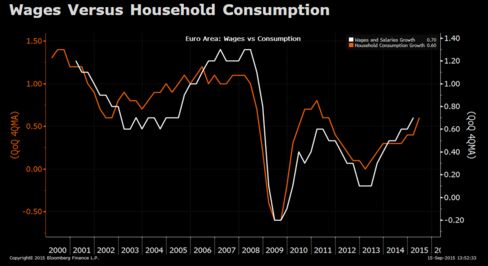 The risks to this view are a slowdown in nominal wage growth and a return of inflation through oil-price increases, both of which would undermine the growth in real wages.
Moreover, as European Central Bank President Mario Draghi pointed out at his last ECB press conference, growth faces downside additional risks from "current developments in emerging market economies."
If Draghi is right, the euro-area needs its domestic consumers to perform more than ever.
Before it's here, it's on the Bloomberg Terminal.
LEARN MORE