SAP's McDermott Loses Eye in Accident, Will Continue as CEO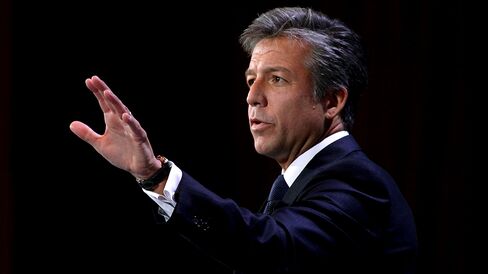 Chief of German software company badly injured in July fall

CEO to fly again in October and plans to attend board meeting
SAP SE Chief Executive Officer Bill McDermott lost an eye after an accident in the U.S. in July, though he is recovering and plans to be back in Germany next month, according to the company.
McDermott, 54, fell down stairs in the night while carrying a water glass during a visit to relatives and nearly bled to death from his injuries, a SAP representative said Wednesday. It became clear last week he would lose his left eye. News of the injuries was reported Wednesday by German magazine WirtschaftsWoche.
McDermott, SAP's sole CEO since last year, said in a separate interview with Sueddeutsche Zeitung that he feels strong.
"I'm still alive, and that's not a given after such a bad accident," he said. "This can happen to anyone. It's important to stand up after you've fallen down."
SAP's supervisory board has a succession plan, Chairman Hasso Plattner told WirtschaftsWoche. The company declined to discuss details of that plan. SAP said McDermott will be able to fly again next month and plans to be back at company headquarters in Walldorf, Germany, in early October.
The American CEO joined SAP in 2002 and became co-CEO with Jim Hagemann Snabe, who still sits on the supervisory board, in 2010.
Before it's here, it's on the Bloomberg Terminal.
LEARN MORE