Pitney Bowes, Maker of Postage Machines, Believes in Life After Mail
How a staid, century-old postage machine business plans to win a digital "knife fight."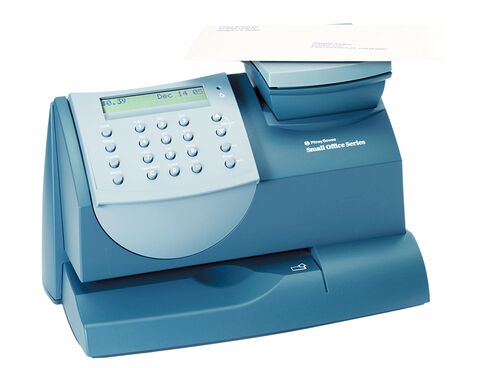 Blockbuster Video, Eastman Kodak, RadioShack: If you make most of your money on postage meters in 2015, you have to hustle to keep your company's name off that list. Maybe it's a good thing that Pitney Bowes isn't quite a household name.
For almost a century now, the Stamford (Conn.) company has been in the business of postage meters, which look kind of like primitive fax machines with attached scales. Pitney Bowes also handles the sorting for the U.S. Postal Service, processing some 15 billion pieces of mail every year. The focus on snail mail is an obvious problem in the age of Snapchat, and Pitney Bowes knows it. There's no way to ignore the 27 percent drop in envelopes and catalogues sent by mail in the past decade.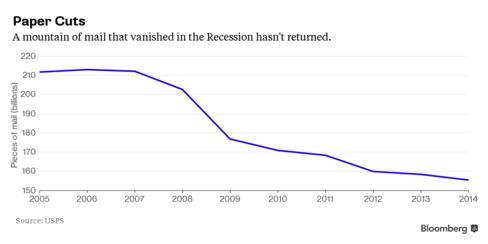 Not surprisingly, Pitney Bowes results have been steadily shrinking, and investors have been making a rather obvious bet against the future of mail; the stock has dropped by about 20 percent in the past 12 months. But postage-meter executives are optimists. In an annual analyst meeting this morning, the company announced a plan to buy back up to $100 million of it shares just as it's wrapping up a separate $100 million share-purchase program.
Marc Lautenbach, Pitney Bowes's chief executive, sees himself as leading one of the rare companies that is pulling off disruptive innovation without a whopping dose of either disruption or innovation1. His company will make its own old-timey stamping machines irrelevant, rather than letting someone else do so, but the process is happening gradually. In the meantime, Pitney Bowes can develop its other skills. It turns out the mail business isn't so outmoded after all.
"There were essentially 92 different things we could have, in essence, chosen from," says Lautenbach. "We looked at where we have brand permission and where we have some applicable expertise."
Consider the Pitney Bowes data trove. To help a Fortune 500 mail room handle massive shipping campaigns takes deft abilities with addresses. The ability to verify an old-fashioned physical address is a valuable asset, and Pitney Bowes was prescient enough to build software around that skill. Customers using the postage meter might not have known about the software collecting addresses over the years.
The meter makers also haven't held themselves aloof from social media. Today, whenever someone "checks in" to a location on Twitter, it is Pitney Bowes that marks the exact location. When Bank of America wants to figure out where to put branches in a new neighborhood or a cellphone company needs to place a new tower, they too turn to Pitney Bowes. When a gas station credit card machine asks for a ZIP code, odds are good that Pitney Bowes software is auditing the card-holder for fraud.
E-commerce is turning out to be yet another potential lifeline. Pitney Bowes helps Etsy crafters and eBay salesmen navigate shipping regulations, export restrictions, documentation requirements, and fees as small-time sellers hawk their products around the world. This part of its business became even more important this May after Pitney Bowes spent $395 million to acquire Borderfree, a New York company that helps retailers open Web stores in foreign countries. The deal brought such clients as Macy's, Gilt, Under Armour, and J. Crew into the fold.
There's also a new foray into "personalized video billing," in which a prerecorded video with human-like interactivity helps those confused by, say, the charges on a cable-TV bill. Pitney Bowes bought into the business with a deal in May for Real Time Content. In all, the company says, one in five revenue dollars comes from digital commerce.
Not that there won't be more mailing machines. The newest model, given the unwieldily name Relay Multi-Channel Communication Suite, can stuff envelopes, weigh documents, and print postage in a whirlwind of 1970s technology. But the machine also scans and automatically uploads files to a cloud archive and cues up e-mail blasts. Demand for the new machine has been strong, the company says.
"It's not easy undertaking a transition like this, and they've been doing a pretty good job," says Piper Jaffray analyst George Tong. "And they're only in the early innings of penetrating mass marketplaces like eBay."
The downside is that the new offerings face far more competition than the good old postage meters, in which the company accounts for 75 percent of sales and can maintain a hefty profit margin. Leasing postage machines to small and midsize businesses produces an enviable 37 percent profit before taxes and interest at Pitney, while the newer digital ventures churn away at an 11 percent margin.
"Honestly, anything in the digital space is a knife fight every single day, with people wanting to rip you apart," Lautenbach says. When you start out selling stamps, being around to fight at all is a win.
Before it's here, it's on the Bloomberg Terminal.
LEARN MORE