Muni Debt Could Be a Bond Market Haven After Fed Hikes
Muni returns beat Treasuries after last rate increases in 2004

Longer-term munis have already cheapened in anticipation
If the last time the Federal Reserve raised interest rates is any guide, U.S. state and local government bonds will be a refuge for investors once policy makers bring the era of nearly free money to a close.
When the central bank began tightening monetary policy in 2004, the $3.6 trillion market returned 5.5 percent, about 2 percentage points more than Treasuries, according to Bank of America Merrill Lynch Indexes. As the increases continued over the next two years, municipals kept outperforming.
Standish Mellon Asset Management Co., Neuberger Berman and Citigroup Inc. are among the firms saying municipal debt is poised for another round of standout returns if the Fed starts raising interest rates as soon as Thursday. That's because the securities are owned largely by buy-and-hold investors looking for steady tax-exempt income, which buffers them from the volatility elsewhere in financial markets. Higher yields tend to make the bonds even more attractive to those buyers.
"On a relative basis, munis should perform well," said Christine Todd, president of Boston-based Standish, which has $27 billion of munis under management. "Whether you're a taxable investor or not, you're better off in munis."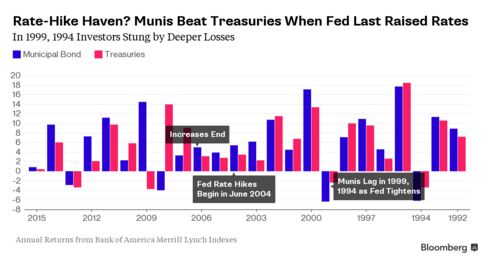 The securities aren't immune to losses, and the market trailed Treasuries as the Fed boosted rates during the 1990s. Yet a slide in prices this year, which pushed up 10-year yields by a half percentage point since February, may protect the market if the central bank moves slowly to avoid derailing the economic recovery, analysts said. It's held its benchmark overnight lending rate near zero since late 2008.
"Whether they do it September or December, they're going to then take a step back and and watch and really make sure they haven't moved too soon and haven't done anything to throw this economy off its moorings," said James Iselin, head of the municipal fixed income team in New York at Neuberger Berman, which oversees about $9.3 billion of munis. "That is somewhat supportive."
State and local debt is relatively cheap by one measure: 10-year munis yield 2.28 percent, about the same as similar U.S. government debt, according to data compiled by Bloomberg. The yields on munis have averaged 97 percent of Treasuries over the past decade because, unlike U.S. debt, the income they generate is exempt from the federal income tax.
The securities have outperformed other investments amid speculation about when the Fed will act. Munis have returned 0.8 percent this year, according to Bank of America Merrill Lynch indexes, almost twice as much as Treasuries. U.S. corporate bonds have lost 0.8 percent, while the Standard & Poor's 500 Index is down by almost 4 percent.
Vikram Rai, head of municipal strategy in New York at Citigroup, said in an Aug. 31 report that munis maturing in 10 years or longer may rally if the Fed raises rates Thursday, given that yields have already climbed in anticipation. A year after the Fed's first increase in 2004, he said, top-rated 10-year yields declined by 0.56 percentage point and the 30-year slid 0.8 percentage point.
"Fed actions are perversely bullish for long-dated bonds," Rai wrote.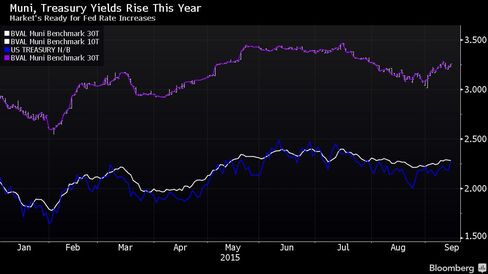 Investors may also seek protection from turmoil in equity and commodity markets. That would draw cash into the market, which continued to pull in funds from individual investors after interest rates began rising in 2004, according to Fed figures.
"Within fixed income, municipals continue to offer less volatility and the unique advantages of tax-free income," New York-based BlackRock Inc. analysts led by Peter Hayes wrote in a report Monday.
Before it's here, it's on the Bloomberg Terminal.
LEARN MORE