Denmark Pledges Measures to Fight Bond Flop Amid Liquidity Woes
Next bond auction set for Oct. 7 after issuance was suspended

Nordea says very little central bank can do as liquidity falls
Denmark is about to test bond markets for the first time in eight months.
Its AAA-rated government notes haven't been auctioned since January, when a speculative attack against Denmark's euro peg drew an arsenal of responses, including a suspension of issuance.
But timing is everything, and Denmark's decision to resume bond auctions coincides with a global distaste for illiquid markets. Governor Lars Rohde said in an interview on Wednesday the central bank "is considering ways to help the market and help liquidity." He also says investors will be keen to hold top-rated Danish assets once they're offered.
But Scandinavia's biggest bank says Rohde may be underestimating the risks.
"Denmark's credit quality is obviously great and that's the sales argument Lars Rohde is using," Jan Stoerup Nielsen, an analyst at Nordea in Copenhagen, said in a phone interview. "But it's liquidity that's the real hurdle. The problem is the central bank is focusing on credit quality whereas much of the global market focus is currently on liquidity."
Nielsen says he is "particularly skeptical about whether foreign investors will return at the same level as before."
Swedish bank SEB said last week prices for Danish government bonds will stay depressed in both the short and medium term after liquidity dropped by more than half this year. The first auction is set for Oct. 7 and Rohde says the debt office won't publish a target for how much it wants to sell. Denmark plans to issue 100 billion kroner ($15 billion) in total through 2016.
The central bank is "well aware of the situation," Rohde said in an interview on Wednesday. "I think I should say that to measure liquidity has always been a very difficult thing."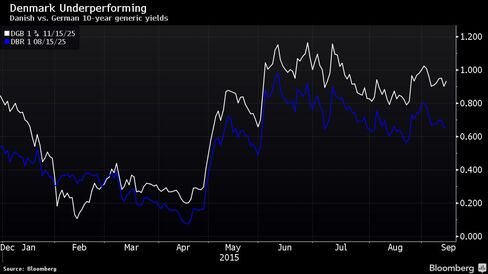 Denmark's latest treasury bill auction was a thin affair. On Wednesday, the debt office sold just 100 million kroner in bills after receiving 900 million kroner in bids. By comparison, the office sold bills for an average of 3.35 billion kroner per auction last year, receiving an average of 4.8 billion kroner in bids.
While bond issuance has been suspended, the central bank has conducted switch auctions to let investors exchange older debt with newer benchmark notes. Nordea's Nielsen says there's not much more the bank can do to aid liquidity.
They just need to "wait for the liquidity to pick up," he said.
Before it's here, it's on the Bloomberg Terminal.
LEARN MORE