Inditex Sales Growth Quickens on Shop and Online Expansion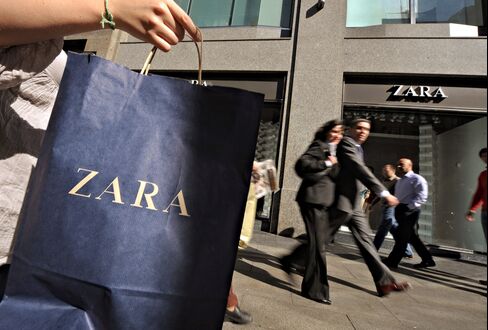 Fashion retailer posts `stellar start to the quarter'

Sales from Asia, Americas gain weight in total revenues
Inditex SA, the world's largest clothing retailer, reported brisker sales in the current quarter as the owner of Zara added more shops and online businesses in Asia.
Revenue rose 16 percent in the start of this quarter through Sept. 10, excluding currency shifts, Arteixo, Spain-based Inditex said Wednesday in a regulatory filing. Same-store sales over that stretch increased 9 percent, a faster pace than the 7 percent figure for the first half of the year, according to estimates from Sanford C. Bernstein analyst Jamie Merriman.
Inditex has had "a stellar start to the quarter," Merriman said in a note. "This is another strong set of results."
Inditex, whose shares rose as much as 3.5 percent, has opened more than 400 stores annually on average over the past five years. The 3.1 percent growth that economists forecast for Spain's gross domestic product this year is bolstering sales in a market where Zara sells 129-euro leather jackets and 30-euro turtleneck sweaters. The company has also expanded its online business, beginning e-commerce sales for Zara in Taiwan, Hong Kong and Macau this month.
The shares traded 3.3 percent higher at 29.56 euros as of 9:06 a.m. in Madrid. The stock has gained 25 percent this year, giving the retailer a market value of 92 billion euros.
Non-European operations gained weight among Inditex's overall sales in the first half of the year, with Asia and the so-called Rest of the world division accounting for 25.2 percent of the business, compared to 21.7 percent a year earlier. The Americas division accounted for 14.7 percent of revenue, up from 13.4 percent.
Margin Widened
Gross margin widened to 58.1 percent in the six months through July from 57.6 percent in the year-ago period. The dollar was on average 24 percent higher against the euro during Inditex's first half. Unlike rival Hennes & Mauritz AB, which has a bigger reliance on dollar-denominated garments sewn in Asia, Inditex benefits from a stronger dollar as the weaker euro boosts the value of its sales from abroad.
"Inditex have delivered exceptional sales momentum, which alongside a rebounding gross margin has maintained the return to very healthy double-digit earnings growth," Exane BNP Paribas analysts Simon Bowler and Graham Renwick wrote in a note to clients.
Among Inditex's eight brands, Zara Home, which sells household goods such as sheets and tablecloths, posted the largest sales increase with 22 percent, followed by Zara with 17 percent.
"Zara and Zara Home performed very strongly," Merriman said in the note.
Before it's here, it's on the Bloomberg Terminal.
LEARN MORE