Grain Prices to Weaken on Less Severe El Nino Weather, Olam Says
"We are bearish" on agricultural commodities, CEO Says

FAO global food index has fallen to lowest since April 2009
Olam International Ltd., one of the world's largest food commodities traders, expects grain and oilseed prices to weaken further because the El Nino weather phenomenon will be less harmful to harvests than feared.
"We are bearish," Olam Chief Executive Officer Sunny Verghese said in an interview in London on Tuesday. "El Nino will not be as severe" as many in the agricultural commodities market expect, he added.
Meteorologists from Australia to the U.S., who have predicted the current El Nino may become one of the strongest ever recorded, matching the 1997-98 event that ruined crops with droughts and floods. El Nino can affect weather worldwide -- and hence, crops -- by baking Asia, altering rainfall across South America and bringing cooler summers to North America.
Verghese, who bases his view on intelligence from farmers and the company's own meteorological model, said the current El Nino was unlikely to match the destructive impact on crops of almost two decades ago.
"Currently, our house view is that it will not be a major event," he said. "It will be a moderate event rather than a strong one, and definitely we don't think it's a super El Nino."
The potential for El Nino-related crop losses has been a rare bullish factor in the agricultural commodities market as growing grain stockpiles combine with slowing demand growth in China. Global food prices have already dropped to their lowest since April 2009, according to the United Nations Food and Agriculture Organization.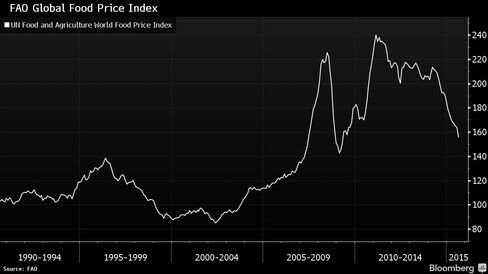 The bearish view from Olam -- one the world's top three traders of coffee and rice and the largest exporter of Russian wheat -- contrasts with banks including Nomura International Ltd. and Rabobank International, which have warned about El Nino risk.
Commodities investors pay attention to the views of Olam and its larger rivals, including Archer-Daniels-Midland Co., Bunge Ltd., and Cargill Inc. and Louis Dreyfus Commodities, as their trading relationships give them insight into supply and demand trends.
El Nino occurs when there's a weakening in the trade winds that push the sun-warmed waters of the equatorial Pacific into a mound in the west. Fishermen in Peru and Chile originally used the El Nino –- a reference in Spanish to the Christ child –- more than a century ago to describe the appearance, around Christmas, of warmer-than-normal sea temperatures in the Latin American coast of the Pacific ocean.
Despite the risk of El Nino, Singapore-based Olam believes that the wheat, corn and oilseeds markets are now oversupplied, with prices likely to drop this year and into 2016.
"We see the grain complex down, edible oil is down," Verghese said.
The International Grain Council, a London-based inter-governmental group, last month said world grain stocks were rising toward their highest in 29 years on plentiful harvests.
Verghese said global milk prices were likely to resume their decline due to "too much excess supply" after a brief rally over the last few weeks, which he described as an "opportunity to sell."
But he said that El Nino, even if a moderate event, was bullish for cocoa and coffee.
The outlook for food commodities is a dramatic turnaround from four years ago, when crop costs jumped, contributing to civil unrest across the Middle East and Africa. The 2010-11 spike followed the 2007-08 food crisis, when the cost of wheat, rice and corn set record highs.
Weaker agricultural commodities prices are cutting farm income of major producers, including the U.S., Argentina, Australia and Canada. European farmers have this month protested in Brussels demanding higher prices for commodities including milk. In the U.S., the federal government believes that American farmers will receive the lowest net farm income in nine years.
Before it's here, it's on the Bloomberg Terminal.
LEARN MORE