Get Fed Monkey Off Our Backs for Bonds to Rally, Europe Says
Key U.S. interest rate seen boosted sometime during 2015

Investors prefer high-yield assets, seeing rates staying low
BlueBay Asset Management LLP is buying Spanish and Portuguese bonds, unperturbed by the prospect that the Federal Reserve will raise interest rates Thursday. Vontobel Asset Management Inc. is going a step further, favoring Mongolia's dollar-denominated securities.
Some of Europe's largest investors say they're looking past the Fed decision to hold a longer view: The first U.S. rate boost in nearly a decade probably will come this year, and even so, official borrowing costs will remain low. In this environment, riskier assets work for them.
"Still seems like it is going down to the wire, but we can be more certain that if the Fed does hike, it will be presented as a dovish move," said Mark Dowding, partner and money manager at BlueBay, which manages $60 billion. "We feel the market could do well with the Fed 'monkey off its back.' In this context, we believe that risk appetite can recover."
Even after China devalued the yuan, global equities sold off and emerging-market currencies continued sliding, these investors say they're clinging to higher-yielding debt. And they plan to cling right through Thursday's Fed decision. That's because they see a rate increase this year followed by the central bank stressing that future moves will be slow and steady, with rates remaining historically low for a long time.
Futures Signal
Futures contracts show a 28 percent probability that the Fed will boost rates when it meets this week, according to data compiled by Bloomberg. That was down from 48 percent on July 30. The calculation is based on the assumption that the effective fed funds rate will average 0.375 percent after the first increase, versus the current target of zero to 0.25 percent.
Economists are split on what action Fed policy makers will take on Thursday. More than half of 111 analysts in a Bloomberg survey predict no change, while 50 say the rate will be increased by 0.25 percentage point and four see a 0.125 percentage-point increase.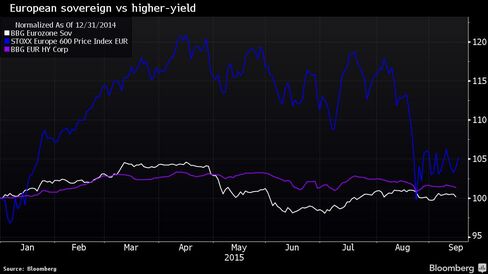 While Fed officials want to raise borrowing costs from emergency levels, they recognize the need to stay cautious and avoid pouring cold water on the economy, said Herve Hanoune, head of fixed income in Zurich for Vontobel, which oversees $94 billion.
"With external risks and market volatility we are having, the Fed might need more time to monitor the situation," Hanoune said in a telephone interview. "What is clear is that they should hike and that will happen in 2015. The U.S. economy is no longer in a zero interest-rate environment."
Junk Interest
Hanoune said he has become more "tactical" in his investment against this policy backdrop, focusing on short-term opportunities until there is more clarity on the rate outlook. He said he bought a number of corporate bonds and would consider selectively investing in securities rated below investment grade. While the company reduced exposure to emerging-market local debt, he judged foreign-currency securities of some countries, including Morocco's euro-denominated bonds, as being attractive.
Hanoune is not alone. Pacific Investment Management Co. analyst Nicola Mai said the Fed is likely to stand pat at this week's meeting and recommended holding some riskier assets, including European peripheral bonds.
European investors have seen their region's stocks return about 5.6 percent this year, while euro region's sovereign bonds rose 0.1 percent, according to data compiled by Bloomberg. European high-yield corporate bonds gained about 1.3 percent during the same period.
Inflation Argument
Anemic inflation supports the argument for the Fed to stay on hold. Consumer-price growth was 0.3 percent in July according to the Fed's preferred measure, and has remained below the central bank's 2 percent target since 2012. Consumer-price increases are subdued because the cost of commodities has plunged about 15 percent this year, led by crude oil. At the same time, the dollar has surged against currencies in Europe and Asia whose central banks have monetary stimulus under way.
The Fed risks jeopardizing its credibility if it delays a liftoff any longer, said Fabrizio Fiorini, chief investment officer at Aletti Gestielle SGR SpA, who predicted U.S. policy makers will raise rates this week.
While the fragile global-economic outlook, particularly the slowdown in China, remains an issue for most investors, central banks around the world are maintaining their easing bias to address the problem, according to Fiorini, who said he is buying European stocks, peripheral bonds and some selected junk bonds.
"The Fed is running out of an excuse not to raise interest rates, given economic development inside the U.S.," Fiorini said in an interview from Milan. "A rate hike will be very positive for risk assets as the Fed is likely to send a signal, following an increase, that rates will stay low."
Before it's here, it's on the Bloomberg Terminal.
LEARN MORE