Fed Isn't Only Decision Troubling Turkey as Fitch Weighs Rating
Analysts see risk of Fitch cutting its outlook to negative

Investment grade supported by `stellar' finances, Nomura says
Talk about bad timing.
In the throes of a worsening conflict with Kurdish and Islamic State militants, looming elections and the potential fallout from higher U.S. interest rates, Turkey is due for its scheduled checkup at Fitch Ratings this week.
Already assessed as junk by Standard & Poor's, any notion from Fitch that it too might consider cutting Turkey could add selling pressure from those investors limited to investment-grade assets. Fitch gave a glimpse into its thinking last week when it identified Turkey among the emerging markets "most exposed" to a higher Federal Reserve rate because of the large amount of foreign-currency debt owed by banks. "No real change" is expected from Fitch, Interim Deputy Prime Minister Cevdet Yilmaz said on NTV Thursday.
"There is an increasing threat that the outlook is changed to negative from stable, highlighting the risk of a downgrade to junk," Cristian Maggio, the head of emerging-market research at TD Securities in London, said on Tuesday. "After Fitch's comments, singling out emerging-market weaknesses last week, this move is not so unthinkable."
Such a step, said Maggio, could mean more pain for Turkey's currency and bonds, so far this year's second-worst emerging-market performers. The lira plummeted to a record on Monday while 10-year bond yields stand at 10.68 percent. That compares with 3.99 percent on notes from Croatia, which Fitch rates two levels below Turkey. The surge in lira bond yields this year is topped only by recession-hit Brazil, which was cut to non-investment grade by Standard & Poor's last week.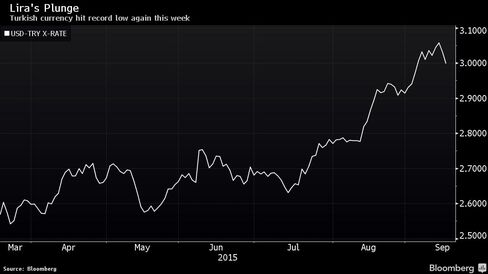 Contracts to insure against the risk of non-payment on debt cost 100 basis points more for Turkey than the same five-year credit-default swaps for Hungary, also rated junk by Fitch and S&P.
Geopolitical risks have been rising with Turkish air strikes against Islamic State in neighboring Syria and the collapse of a three-year long truce with the Kurdish militant group PKK. Peace talks with the Kurds foundered as political parties failed to form a coalition government after the inconclusive election in June.
A re-run on Nov. 1 is most likely to result in another hung parliament, according to a survey by MetroPoll earlier this week. Should it fail to end the political uncertainty, deeper economic malaise may ensue, Finance Minister Mehmet Simsek warned last week.
While the lira's depreciation hasn't stopped exports from tumbling, the pressure on inflation has driven consumer-price growth above the government's 5 percent target to an annual 7.1 percent in August. Consumer confidence fell to the lowest in more than six years. As things stand, the government will miss its growth target for the fourth year running, according to forecasts on Bloomberg.
Fiscal Restraint
Still, Turkey has kept public spending under control, helping pare its public debt to 36.5 percent of gross domestic product last year from 40 percent in 2008.
"Turkey's fiscal and public finance profile is still stellar, with the debt and deficit much lower than in 2008," supporting Turkey's case for investment-grade status, Timothy Ash, the head of Europe, Middle East and Africa emerging-markets credit strategy at Nomura Holdings Inc. in London, said Monday.
The "close rein" on public finances isn't immediately threatened by the political impasse, Paul Gamble, a senior director at Fitch, wrote in an Aug. 28 report, ahead of the rating review scheduled for Friday. "Pressure for a moderately looser fiscal stance may increase if the economy slows further, but political commitment to fiscal restraint appears broad-based."
A more pressing concern for investors is how Turkey's central bank responds at its policy meeting Tuesday to inflationary pressure from the tumbling lira and any further pressure resulting from the Federal Reserve's decision.
"While the prospect of the Fed raising interest rates for the first time since 2006 is weighing on all emerging-market currencies, the lira is one of the worst-performing currencies due to unfavorable domestic factors dominated by uncertainty in Turkish politics," Piotr Matys, an emerging-market foreign-exchange strategist at Rabobank in London, said Wednesday. "This is a major risk factor that rating agencies may highlight when assessing the outlook."
Before it's here, it's on the Bloomberg Terminal.
LEARN MORE