The Federal Reserve will meet for two days starting Wednesday and it's the most highly-anticipated gathering in years. On the agenda: A potential interest-rate increase, which would mark an end to almost seven years of holding borrowing costs near zero.
Here are the stories we've written in the lead-up to the decision, scheduled for release at 2 p.m. Thursday in Washington. We'll keep updating this post as more stories come in.
The banking system has been constrained by new regulations and flooded with cash created by the Fed's bond-buying program.
Understanding the plumbing of the new financial landscape will be vital for policy makers trying to fine-tune the economy and investors navigating turbulent markets.
"We don't know what's going to happen when we lift off," Simon Potter, the New York Fed official in charge of the trading desk, said in April, answering questions after a speech.

It's been a brutal year for just about everything in the world of emerging markets and commodities. However lately some of these assets been catching a break.
Emerging market currencies are currently enjoying their longest rally since early 2014. A similar story is playing out in oil and copper.
A Fed rate hike may become a "sell the news" phenomenon, by which the thing everybody expected would happen unfolds in a way that people didn't anticipate.
Market watchers such as former U.S. Treasury Secretary Larry Summers are warning that financial markets still aren't ready and could easily be caught off-guard.
Short-term U.S. debt may suffer the most, which prove to be an ugly surprise for those who sought refuge in the securities during last month's stock-market rout.
Higher rates in the U.S. would threaten to siphon foreign capital away from developing countries
A decision to keep the overnight rate near zero on Sept. 17 may wind up jolting debt markets more than actually raising it, say Thomas Lam at RHB Securities Singapore Pte. Ltd and David Glocke at Vanguard Group Inc.
"If the Fed waits too long all of a sudden it is going to catch up to them one day and they are going to have to go faster," Glocke said.
By holding its target at crisis-period levels too long, the Fed may fail to get ahead of a strengthening economy.
The biggest investors say it's not the time to abandon fixed-income assets.
Pacific Investment Management Co. and Fidelity Investments are betting the Federal Reserve will keep rates low until inflation accelerates.
BlackRock Inc., the world's largest investment company, favors intermediate-maturity U.S. debt, mixing safety and liquidity with returns.
This user-friendly version of the Fed's dot plot lets you compare the current rate forecast to previous ones.
During her press conference in June of this year, Fed Chair Janet Yellen pointed to the dot plot repeatedly when asked about the central bank's likely course.
With only two meetings left in 2015 after this week's gathering, the new set of dots will send a strong signal as to what policymakers expect to happen over the next few months.
The price index tied to consumer spending (excluding food and fuel) has met or exceeded 2 percent just 26 percent of the time in the past two decades.
Technological advances such as fracking, Amazon and Uber may be creating a new low-inflation environment.
A better inflation target would be around 1.5 percent, according to Allen Sinai, chief global economist and strategist at Decision Economics Inc. in New York.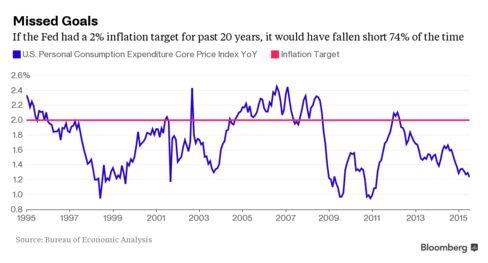 The Fed has drawn political ire for policies that critics say penalized savers.
When the central bank raises rates, it could begin to diffuse an issue that has made the central bank an easy target for critics in Congress.
However, benefits to seniors probably won't flow quickly, as the Fed tightens gradually to avoid derailing the economic expansion.
The Fed should wait to raise interest rates well into 2016, said Andrew Levin, who served as a special adviser to former Fed Chairman Ben S. Bernanke and then-Vice Chair Yellen from 2010 to 2012.
The U.S. is probably about two years away from achieving full employment, no matter what the jobless rate suggests, Levin said.
The chart below, using calculations from Levin, puts the amount of slack still in the labor market at 2.2 percent of the potential labor force.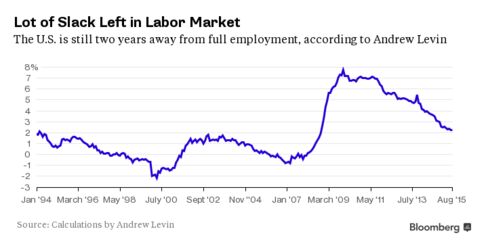 There's a more palatable option for those investors too wimpy to stomach the quarter-point increase in interest rates from the Federal Reserve.
A 12.5 basis-point rise would "certainly be unusual, and surprising, but then after the last eight years or so of unconventional monetary policy, unusual is becoming the norm," ING Bank NV economists said in a report to clients on Tuesday. UniCredit SpA and VTB Capital Plc have also joined this call.
The Fed will probably stay put this time, according to Tim Duy, a professor at the University of Oregon.
As of Sept. 15, just over half of economists surveyed by Bloomberg News—57 out of 111—agree with Duy. Fifty-four expect a rate increase, four of whom are expecting the 12.5 basis-point mini-hike.
The wavering global economy makes a rate hike right now too risky, Duy wrote.
But the committee will indicate that it's still committed to raising interest rates this year, he said.
The Fed's actions on Thursday will reverberate far beyond Wall Street.
The president and chief executive officer of Pendleton Community Bank says that demand for loans is rising, with customers "feeling better about where they are."
If the Fed doesn't raise rates this week, the West Virginia country banker may have to do it himself.
"Don't overestimate the benefits of waiting for the situation to clarify," Fischer said in a speech just three months before taking over as the Fed's No. 2 official in June 2014.
More recently, Fischer was asked in a CNBC interview if the Fed should delay an increase until it had an "unimpeachable case" that a move was warranted. His response: "If you wait that long, you will be waiting too long."
The Fed faces a very tough call, partly because there are big risks whether the central bank stays or goes.
Raise now and the world economy could buckle. Don't raise now and the bank might have to hike rates more quickly later on than it was hoping to.
You wouldn't want to be in Chair Yellen's shoes right now.
The economy right now looks great, with auto sales booming and a very low unemployment rate, but the future is much murkier.
The Fed's big decision comes down to whether officials focus more on the now or the outlook.
If you weren't paying attention, here's what policy makers have said since mid-July.
The chart below juxtaposes those comments against the odds that investors have attached to a September rate increase.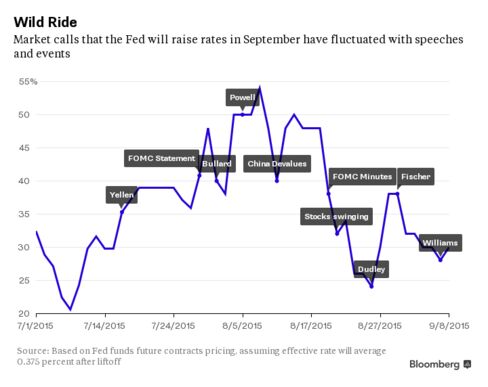 Before it's here, it's on the Bloomberg Terminal.
LEARN MORE