Shale Oil's Retreat Threatens to Leave U.S. Short on Natural Gas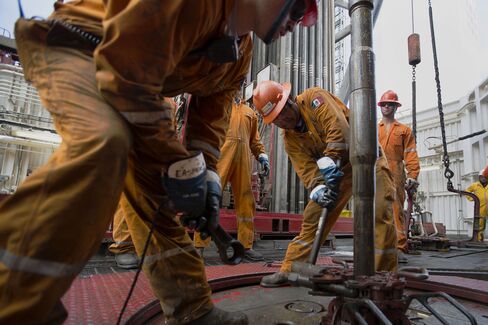 Citigroup says drilling decline may cut gas output by 1 Bcf

U.S. has forecast fourth straight month of gas output declines
The retrenchment in drilling for U.S. oil is threatening to leave a different market short: natural gas.
"The impacts of oil rig counts extend beyond oil: the outlook for U.S. natural gas is critically dependent on the outcome of this balancing act in U.S. oil rigs," Anthony Yuen, a strategist at Citigroup Inc. in New York, said in a report to clients Wednesday. "If the oil market remains oversupplied and oil-rig counts fall, the decline in associated gas production would leave the market short of gas."
Associated gas is the gas that comes out of oil wells along with the crude. Supplies of this byproduct from fields including the Bakken formation in North Dakota and the Eagle Ford in Texas may fall by about 1 billion cubic feet a day next year as drillers idle rigs in response to the collapse in oil prices, Yuen said. That's about 7 percent of U.S. residential gas demand.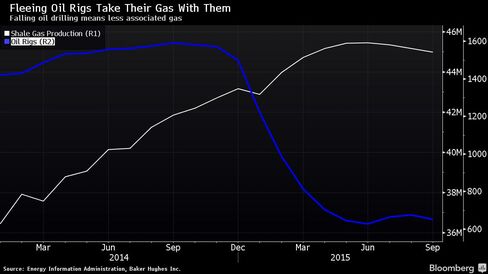 The U.S. Energy Information Administration has already forecast that shale gas production will drop in October for the fourth straight month, a record streak of declines. U.S. oil has lost half its value in the past year amid a worldwide glut of crude. Drillers have responded by sidelining almost 60 percent of the country's oil rigs since Oct. 10.
Crude producers in the lower 48 states may have to keep the number of working rigs low for a while longer to balance the global market, Yuen said. A recovery in the rig count may "exacerbate the current oversupplied environment" and weaken prices, he said.
West Texas Intermediate crude futures gained $2.56 a barrel on Wednesday to settle at $47.15 on the New York Mercantile Exchange. Prices have fallen 50 percent in the last year.
Gas futures settled at $2.66 per million British thermal units on the New York Mercantile Exchange on Wednesday, down 41 percent from June 20, 2014, when oil prices peaked last year. The number of gas rigs drilling in the U.S. has fallen 45 percent since Nov. 7, reaching a record low in Baker Hughes Inc. data going back to 1987.
Before it's here, it's on the Bloomberg Terminal.
LEARN MORE