Dot Plot Proves Dollar Poison Yet Again as Fed Keeps Rate Low
Release of revised dot plots has pummeled bulls this year

Central bank's post-liftoff path is over-arching force
The dollar has strengthened after every Federal Reserve meeting this year apart from when the central bank released its outlook for interest rates. Thursday was no different.
The 17 policy makers cut their median projection for this year to 0.375 percent and kept the fed funds rate near zero. Officials slashed the forecast for 2016 to 1.375 percent from 1.625 percent. One estimated the benchmark rate would drop into negative territory this year and the next.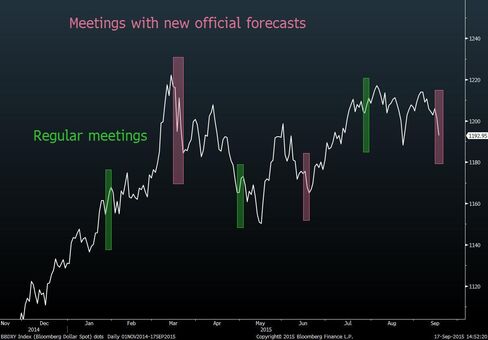 "The Fed needs to come up with a much more reasonable glide path for rates over the next three years," John Herrmann, director of U.S. rate strategy at Mitsubishi UFJ Securities USA Inc. in New York, said before the projections were released. "It should take the dollar down a little first thing, and it might also support the price of risky assets, as it says the Fed is going to be a little more dovish."
Fed officials' rate forecasts appear as blue dots on a chart included as part of the central bank's Summary of Economic Projections. In all three quarterly updates this year, the dots were moved lower, indicating Fed policy makers were moving closer to market-based measures that indicate a more gradual ascent and lower ending point on the path to higher rates.
Lower interest rates tend to reduce the relative allure of dollar-denominated assets.
The U.S. currency dropped as much as 0.8 percent after the announcement. It sank 1.8 percent on March 18 after officials cut the median 2015 forecast by almost half to 0.625 percent. On June 17, when the Fed released that meeting's decision, the U.S. currency fell 0.8 percent as the 2016 and 2017 estimates were cut to 1.625 percent and 2.875 percent, respectively.
As Fed Chair Janet Yellen emphasized again Thursday, the tightening path matters more than the timing of the first increase. Thus, the dot plot has become a wild card for the dollar at a time officials use it to telegraph their goal of keeping this rate-rise cycle slow and gradual.
The end-2016 forecast of 1.4 percent is still higher than 0.74 percent implied in fed funds futures.
The Bloomberg Dollar Spot Index has fluctuated against major currencies during the past six months, following a 22 percent rally since the middle of last year through March. Signs of uneven economic growth in the U.S., coupled with a China-fueled global market rout last month, prompted investors to cut bullish bets on the dollar.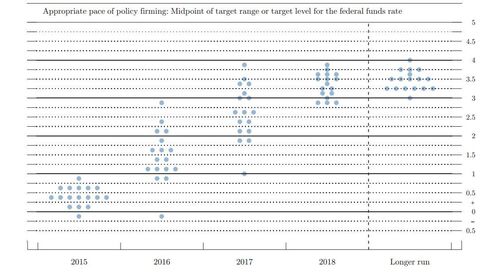 The index fell 0.7 percent to 1,193.52 as of 3:12 p.m. in New York.
"The modest dollar sell-off that has greeted the news looks about appropriate," Alan Ruskin, global head of Group of 10 foreign exchange at Deutsche Bank AG, wrote in a research note.
Before it's here, it's on the Bloomberg Terminal.
LEARN MORE