China Stocks Jump in Last Hour of Trading on State Support Signs
Government buying may be trigger for rebound, IG Asia says

ChiNext small-caps index jumps 7.2% for biggest one-day gain
China's stocks surged after the Shanghai Composite Index slid below the key 3,000 level, with gains coming in the last hour of trading in a pattern that's become associated with state support. A gauge of small-company shares rose by a record.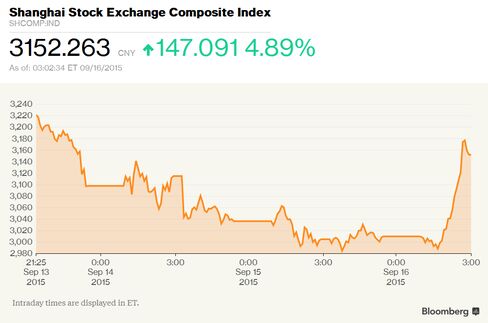 The Shanghai Composite Index jumped 4.9 percent to 3,152.26 at the close, halting a two-day, 6.1 percent loss. Only 12 stocks out of the more than 1,100 traded in Shanghai fell as trading volumes slumped 28 percent below the 30-day average. Technology stocks, the worst performers in the past three months, rallied 9.4 percent for the biggest advance among industry groups. Citic Securities Co., which confirmed its president was being investigated for insider trading, erased a loss of as much as 5 percent.
"I suspect state support may be behind the sharp rally in the final hour," said Bernard Aw, a strategist at IG Asia Pte in Singapore. "The index surged over 5 percent in an hour. This is huge."
Afternoons in the Chinese stock market have turned into a waiting game with rallies driven by government-backed funds buying shares to stabilize the market. The government has spent 1.5 trillion yuan ($246 billion) purchasing equities since the rout began three months ago through August, according to Goldman Sachs Group Inc.
Expensive Valuations
The Shanghai gauge has tumbled 39 percent from its June high as leveraged investors fled amid concerns valuations weren't justified given the weakening economy. Data over the weekend showed industrial output missed economists' forecasts, while investment in the first eight months increased at the slowest pace since 2000.
The CSI 300 snapped four days of losses, gaining 5 percent. The ChiNext index of small-cap stocks surged 7.2 percent, the biggest gain since its inception in June 2010. The Hang Seng China Enterprises Index rose 2.1 percent in Hong Kong, while the Hang Seng Index climbed 2.4 percent.
Equities on mainland bourses traded at a median 45 times reported earnings last week. That's the highest among the 10 largest markets and more than twice the 18 multiple for the Standard & Poor's 500 Index. The Shanghai Composite, where low-priced banks have some of the biggest weightings, has a ratio of 15.7.
Margin Trading
Guo Feng, an investment adviser at Northeast Securities Co., said stocks also rallied on speculation the government is succeeding in reducing risks associated with non-brokerage margin lending. The China Securities Regulatory Commission cleared 3,255 non-brokerage margin funding accounts, or 61 percent of the total, spokesman Deng Ge said this week.
Margin traders cut holdings of shares purchased with borrowed money on Tuesday, with the outstanding balance of margin debt on the Shanghai Stock Exchange falling to a nine-month low of 587.1 billion yuan ($92.2 billion).
The technology sub-index in the CSI 300, which has slumped 54 percent since its June peak, posted its biggest gain since September 2008. Yonyou Network Technology Co. rose by the 10 percent daily limit, rebounding from its lowest close since Jan. 5. Dr. Peng Telecom & Media Group Co. jumped 10 percent. Measures of health-care and industrial shares advanced at least 6.7 percent.
Citic Probe
"Technology stocks corrected massively over the last couple of days and
while valuations in some cases remain relatively high, a rebound was to be expected," said Gerry Alfonso, a sales trader at Shenwan Hongyuan Group Co. in Shanghai. "Technology stocks tend to be favored by some speculative investors because of their great potential for appreciation."
Citic Securities surged 6.7 percent, paring its loss over the past three months to 54 percent. President Cheng Boming is being probed by the police for insider trading, the official Xinhua News Agency said late Tuesday after the close of trading. The securities house confirmed the police investigation of Cheng in a statement to the Shanghai stock exchange. A brokerage spokeswoman declined to comment further.
— With assistance by Shidong Zhang, and Kyoungwha Kim
Before it's here, it's on the Bloomberg Terminal.
LEARN MORE