Canada Stocks Rise Most in Three Weeks as Oil Gains Ahead of Fed
Two-day meeting of Fed policy makers begins in Washington

Energy, raw-materials lead gains in all 10 S&P/TSX industries
Canada stocks rallied to the highest level since August, as commodities prices rebounded after oil surged to a two-week high while U.S. central bank officials began a two-day debate on the timing of higher interest rates.
Energy and raw-materials producers jumped at least 3.8 percent to pace gains among Canadian equities. Oil futures rose 5.7 percent in New York as U.S. stockpiles declined 2.1 million barrels last week, according to a government report. The Bloomberg Commodities Index surged 1 percent for the first increase in four days.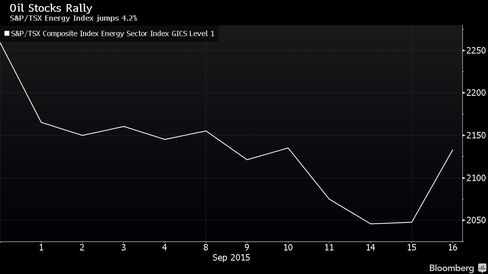 The Standard & Poor's/TSX Composite Index jumped 301.07 points, or 2.2 percent, to 13,763.78 at 4 p.m. in Toronto, the biggest increase since Aug. 27. The benchmark equity gauge has pared losses in September to 0.7 percent, after four straight months of losses.
Canadian stocks have rebounded 2.3 percent this week after slumping 4.2 percent in August for the worst performance in a year, amid a rout among global financial markets following China's shock currency devaluation. China is Canada's second-largest trading partner after the U.S.
Canadian Natural Resources Ltd. gained 6.3 percent and Crescent Point Energy Corp. rose 5.7 percent as energy stocks jumped 4.2 percent, the most since Aug. 27.
Goldcorp Inc. and Barrick Gold Corp., Canada's biggest gold companies, surged at least 5.6 percent as raw-materials producers rallied 3.8 percent. Gold futures settled 1.5 percent higher in New York, the most in more than three weeks.
The U.S. Federal Reserve begins two days of meetings in Washington Wednesday, with traders predicting about a 32 percent chance the central bank will raise interest rates. U.S. consumer prices dropped in August as cheaper gasoline helped keep inflation below the objective of the Fed.
"The evidence continues to mount that slack in the economy is abating," said Kevin Caron and Chad Morganlander, fund managers at Stifel Nicolaus & Co., in a note to clients. "As for inflation, the Fed sees the current weakness as largely temporary. The Fed should move on rates but look to control expectations for future rate hikes in our view."
Toronto-Dominion Bank and Royal Bank of Canada, the nation's largest lenders, increased more than 1.8 percent to lead financial services stocks higher.
Before it's here, it's on the Bloomberg Terminal.
LEARN MORE