Brazil's Opposition Takes Firsts Steps Toward Impeachment
Lawyers backed by Rousseff foes ask lower house to remove her

Leaders of ruling coalition denounce efforts to oust Rousseff
Brazil's opposition leaders this week are taking the most decisive steps so far to try and remove President Dilma Rousseff from office amid growing discontent over her handling of a tanking economy.
Lawmakers this week for the first time formally discussed the procedures for impeachment on the floor of the lower house, asking the head of the chamber, Eduardo Cunha, for clarification on the steps required to start a process to oust the president. Brazil's largest opposition parties now are rallying behind an impeachment request filed by Helio Bicudo, a co-founder and former member of Rousseff's ruling Workers' Party.
Miguel Reale Junior, a constitutional lawyer, presented to the lower house Thursday additional information to back his and Bicudo's impeachment request.
Many legislators remain loyal to Rousseff and party leaders from the governing coalition this week denounced attempts to remove her from office, saying such a move would be a break with constitutional rule. Yet the discussions in Congress and the support of Bicudo's request reflect growing unity within the opposition toward impeachment as Latin America's largest economy sinks deeper into recession.
"A vote on impeachment as early as this year is possible, but I can't say that categorically," Jose Mendonca Filho, leader of Brazil's second biggest opposition party, said Wednesday. "From the political point of view, the questions presented on the floor yesterday were the first step toward the debate over the vote on President Dilma's impeachment."
Junk Rating
Standard & Poor's decision to cut Brazil's credit rating to junk last week added to Rousseff's challenges by sparking as sell-off of Brazilian assets. The government unveiled a plan to shore up fiscal accounts by creating a new tax worth about 30 billion reais ($7.8 billion), prompting business associations to join those criticizing the government. Less than a month ago, the same business associations called on Congress to support Rousseff's economic plan.
Political consulting firm Eurasia Group this week increased to 40 percent from 30 percent the odds that Rousseff won't finish her term, saying the government is losing capacity to respond effectively to economic and political crises.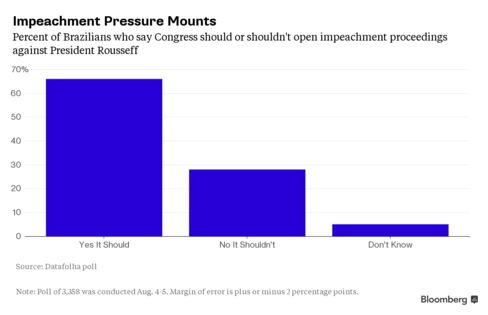 Bicudo says Rousseff should be held responsible and impeached for doctoring her government's financial accounts, breaking campaign finance laws and allowing state-run oil company Petrobras to incur losses because of corruption.
"Bicudo and I are together fighting against a dictatorship of kickbacks," Reale told reporters after meeting with the head of the lower house Eduardo Cunha.
Cunha, who decides whether to advance with the impeachment proceedings, said he will evaluate the request, without setting a deadline. If he archives the request, lawmakers can still overrule the decision by simple majority.
Rousseff in a speech Wednesday likened the impeachment effort to an attempted coup d'etat. Her legal team has said all accounting practices in question were used by previous governments and didn't violate the fiscal responsibility law. The Workers' Party has said all donations it received were in compliance with Brazilian law.
Impeachment Process
If impeachment proceedings are accepted by Cunha or the majority of lawmakers, a committee will discuss the request and send its recommendation to the house floor. At least 342 out of 513 lawmakers must vote for impeachment hearings to begin before the case goes to the Senate or Supreme Court, depending on the charges.
Cunha already rejected five of the 18 impeachment requests sent to Congress, saying they don't pass legal muster.
Before it's here, it's on the Bloomberg Terminal.
LEARN MORE