BofAML Says Tuesday's Action in Stocks and Bonds Proves the Market is Ready for Liftoff
Stocks up, yields up, odds up.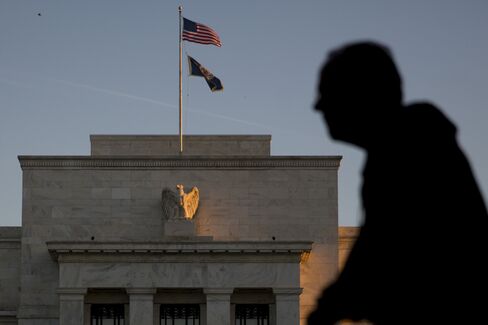 The price action across bond and stock markets on Tuesday showed that markets have given the Federal Reserve the green light for liftoff, according to Bank of America Merrill Lynch.
Hans Mikkelsen, head of investment grade credit strategy, indicated that yesterday's rally in equities amid the selloff in bonds signaled a level of comfort, or at least acceptance, of what could transpire when the Fed's latest policy decision is unveiled on Thursday.
The two-year yield has been grinding higher since mid-2013, hitting a fresh four-year high on Tuesday while long bonds had a slightly worse showing:
"The seemingly outsized sell-off in Treasuries is consistent with the market rationally expecting accelerated Chinese intervention to stem outflows in a Fed rate hiking cycle," the strategist wrote, adding that both swap spreads and credit default swap spreads tightened on the day.
And for the S&P 500, the gap between the performance of financials and utilities, Mikkelsen noted, was proof that the foundation of the equity rally came from higher rates: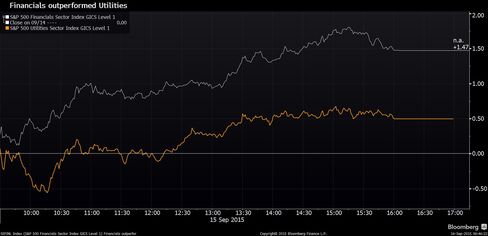 The combination of higher rates and stock market gains would seem to suggest that the market won't be roiled by the commencement of a tightening cycle.
The probability of a rate hike implied by federal funds rate futures, however, rose to 32 percent from 28 percent - not a massive move by any stretch of the imagination, and still well short of where it was sitting before the market turmoil began in August.
Joseph LaVorgna, Deutsche Bank's chief U.S. economist, and David Woo, head of global rates and currency research at BofAML, have both cited the failure of a rate hike to be priced in as an impediment to action by the Federal Reserve.
Meanwhile, there are competing narratives fighting attached to Tuesday's moves. Other market participants emphasized that a major shift in positioning, with traders looking to hedge ahead of the Federal Reserve meeting, was the prime culprit behind the price action.
Before it's here, it's on the Bloomberg Terminal.
LEARN MORE