Beluga Jumbo Transport Plane to Boost Airbus's Output Capacity
New duck-nosed transporter to come into service in 2019

Airbus is spending $1.1 billion for five new transports
Airbus Group SE's commercial planemaking division has completed the design of a new super transport that will carry 30 percent more capacity as the company seeks speedier shipments of aircraft wings and other parts to final assembly lines.
Airbus in November announced plans to build five new transport planes, similar to its current dome-headed Beluga fleet, but larger and based on its still-in-production A330-200 freighter, instead of the out-of-production A300 that inspired the original Beluga. The planemaker has fixed upon a design after about nine months of collaboration between 600 engineers, the program head said.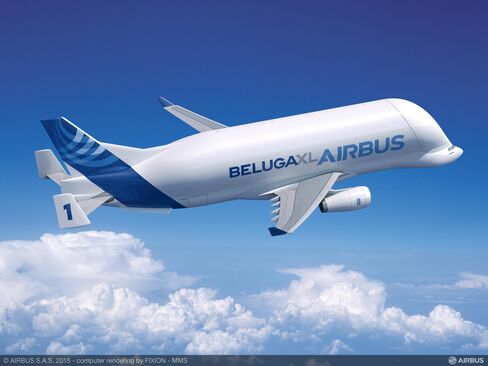 While the current Belugas, named for their resemblance to the hunch-backed white wales of the Arctic, can fit only one wing from the new long-range widebody A350 plane, the new ones will be able to fit two, said Bertrand George, head of Beluga XL, in a telephone interview. Detailed design work is now under way. Development and production will cost 1 billion euros ($1.12 billion), he said.
"We'll be able to double the productivity with this plane," George said. "The current Beluga was designed 20 years ago and since then we've designed new products. It requires a lot of flight hours to fly these wings."
The Beluga XL will also fit more parts of A320 and A320Neo planes, helping Airbus increase the production rate of its A320 single-aisle planes from 42 planes a month now to 50 by late 2017, and possibly to 60 at a later point. Airbus Chief Executive Officer Fabrice Bregier, unveiling a new final assembly line in Mobile, Alabama, this week, said Airbus needs to build planes faster to match demand.
The new Beluga XL, measuring 63.1 meters (207 feet) long, 18.9 meters high, and with a fuselage diameter of 8.8 meters, will bring pieces from around France, Germany, the U.K. and Spain to assembly lines in Toulouse, France, and Hamburg, Germany, as well as Seville, Spain, where Airbus pieces together the A400M military transport. The XL's cargo bay diameter is 1 meter longer than on the existing Beluga and the bay is six meters longer.
(Corrects second paragraph of Sept. 16 story to show that original Beluga was based on A300.)
Before it's here, it's on the Bloomberg Terminal.
LEARN MORE