How Argentina's President Plans to Wield Power Long After Her Exit
Her eye may be on 2019 as she fills top posts with allies

Some presidents have held onto influence, others have failed
Next month, Argentina will elect a president who, for the first time in 12 years, is not a Kirchner: President Cristina Fernandez de Kirchner or her late husband Nestor. It is a prospect that delights many investors eager to move on from the Kirchners' leftist populism. That legacy, however, may prove more enduring than they expect.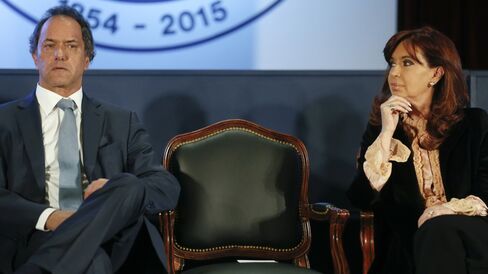 In the past year, Fernandez has appointed nine out of 10 directors on the central bank board, including the president. She created a new spy agency and appointed a member of her inner circle as its chief. She transferred oversight of phone-tapping activities to the prosecutor general's office, where in 2012 she installed an ally.
The securities regulator, the tax agency, the communications regulator and state-run companies such as YPF SA, Aerolineas Argentinas and Enarsa also have directors' boards packed with Kirchner loyalists. A new law she is seeking to pass will forbid the government from selling its shares in a state-run business unless it obtains a two-thirds majority in Congress. About 60 percent of judges and prosecutors have been appointed by the Kirchners.
"Conflict between Cristina and the future president, whoever it is, is inevitable," Rosendo Fraga, director of Nueva Mayoria, a political consulting company, said by e-mail. High approval ratings and leadership of her party "give her a good starting point to maintain power. She wants to return in 2019."
Fraga noted that other former presidents have tried to retain influence once their mandate ended and few succeeded. However, Fernandez will leave office with a higher approval rating -- at least 38 percent in late August -- than any of them. She also still heads the Peronist Justicialist Party, which has held sway over Argentina for the past half century.
While a new government can change some of her appointments, many positions have fixed terms.
Having served two consecutive terms, Fernandez is forbidden by the constitution from competing in the October 25 vote, but she could stand again in 2019. Having key players spread through the country's institutions may help her do so.
Fernandez also has increased public-sector employment. The number of Argentines working for the state went up by 58 percent to 3.5 million in 2015 from 2003 when Nestor Kirchner took power, according to the Foundation for Latin American Economic Investigations.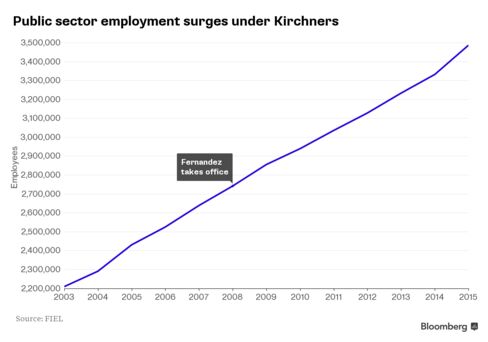 In the October election, Fernandez is backing Daniel Scioli, the governor of Buenos Aires province, after he agreed to name Carlos Zannini, one of her closest confidantes, his running mate. He also deferred to her on candidates for the National Assembly, which probably will include key allies of hers. Scioli leads Buenos Aires Mayor Mauricio Macri by about 9 percentage points.
Jorge Telerman, Scioli's campaign manager, and Marcos Peña, Macri's campaign manager, didn't respond to an e-mail seeking comment about whether either of the candidates would face a power struggle with Fernandez if elected.
Stagnant growth, annual inflation of about 25 percent and dwindling foreign reserves will force the winner to consider changes to her economic policies. Both Macri's and Scioli's teams have said they would negotiate with investor holdouts from the 2001 default to end a legal detente that has kept Argentina out of capital markets for more than a decade. They have also both said they would reduce subsidies on energy bills to cut a fiscal gap estimated at 7.3 percent of gross domestic product.
The difference between the two candidates appears to be in how quickly they would apply those changes, with Scioli preferring a more staggered approach to mitigate negative effects on inflation and growth. Carlos Pagni, a columnist at La Nacion newspaper, said Macri could interpret a victory as a mandate for rapid change. But if Scioli wins, Fernandez will have more control over his policies. And that could prove problematic.
"If Scioli, by trying to avoid confrontation with Cristina, takes his time to establish his leadership, I'm not sure if the market will wait for him," Pagni said.
In 1973, Juan Domingo Peron negotiated his way back to power with his ally Hector Campora serving as a presidential placeholder. Fernandez may be hoping her party's youth movement, named after Campora, can play a similar role for her when she leaves office in December.
Peron's return, however, wasn't what many of his supporters had hoped. He lurched to the right, forging an alliance with fascist death squads that culminated in a brutal dictatorship, said Federico Finchelstein, chairman of the history department at the New School for Social Research in New York.
Other attempts have failed outright. Some 15 years ago, Carlos Menem tried to use Eduardo Duhalde as a placeholder for his return to power. But Duhalde groomed Nestor Kirchner, a little-known governor of Santa Cruz province in southern Argentina.
Kirchner shrugged off Duhalde and reinforced the reach of the presidential office. Fernandez has continued that approach, maintaining, for example, an emergency economic law that allows her to bypass congressional approval when making adjustments to the budget.
As a result, the cards are now so stacked in favor of the person in the presidential Pink House that unless a new president decides to curtail his own powers, many analysts doubt that Fernandez will be a puppet master.
"It's really an irony that the Kirchner administration, that has been so disrespectful of institutions, is now naming people to positions and expecting that the next president will respect that," Finchelstein said. "If history prevails, then there is no reason to believe that he won't do what the Kirchners did, and Cristina will see her power curtailed."
Scioli has fended off repeated inquiries about his independence, saying only he will "be his own man."
Some see Fernandez's influence lasting. Mario Toer, a professor of Latin American politics at the University of Buenos Aires, says her backing of Scioli should be viewed as an alliance rather than a succession. The next president will have to negotiate with her, Toer said, especially in Congress, where her movement will have considerable influence.
"Scioli knows he lacks a force he can mobilize because that will remain part of Kirchnerism," Toer said. "The emergence of a new line of policy will have to count on Cristina's seal of approval."
Before it's here, it's on the Bloomberg Terminal.
LEARN MORE