Biggest Beer Deal to Hit Carlsberg as It Fights Microbrewers
Cost efficiency focus at ABI challenges SAB corporate culture

Microbrewers' U.S. market share has risen to 11 percent
The biggest brewing merger ever threatens to put the industry's midsize players in a bind.
Should Anheuser-Busch InBev NV succeed in buying SABMiller Plc, second-tier beermakers such as Carlsberg A/S and Heineken NV will face a massive rival even more focused on efficiency, just as microbreweries are cutting into larger brewers' market share.
AB InBev's main investors, including 3G Capital Brazilian billionaire Jorge Paulo Lemann, have made their reputation on what RBC Capital Markets analyst James Edwardes Jones calls a "Rottweilerish cost management philosophy." The company more than doubled its operating margin to 32.5 percent last year compared with 2004, when Belgium's Interbrew merged with Lemann's AmBev.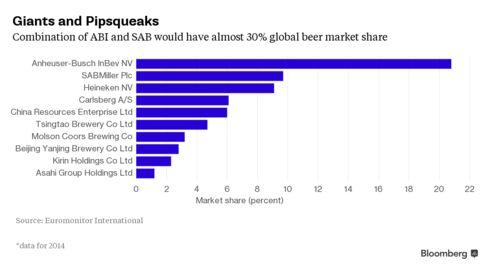 Combining AB InBev and SABMiller would create
one of the world's top 10 companies and surpass Procter & Gamble Co. and Nestle SA in market value. With a 30 percent share of the global beer market, the merged entity will force competitors to become more efficient. Heineken, the third-largest brewer, had an operating margin of 14.4 percent last year while Carlsberg had 14.3 percent.
"As your competition gets bigger and bigger, it gets tougher and tougher to compete," said Andrew Holland, an analyst at Societe Generale in London. "Heineken and Carlsberg face an enlarged ABI-SAB, and notably a management team that have an extremely good track record."
AB InBev said it intends to make an offer for SABMiller, which said only that it had been told by AB InBev about its plans and no offer had been made. People with knowledge of the talks said the company was open to discussing an offer. Shares of both rose.
A deal between AB InBev and SABMiller is unlikely to spur major M&A activity for Carlsberg and Heineken beyond opportunities that may arise as the two larger companies divest assets for regulatory approval, said Trevor Stirling, an analyst at Sanford C. Bernstein.
Job Cuts
A spokeswoman for Heineken said the company was following the situation with interest but won't comment further until the situation becomes clear. Carlsberg declined to comment.
Carlsberg plans to cut jobs to reduce costs amid tough conditions in markets like Russia and Europe, a person familiar with the matter said last month. Cees 't Hart, the Kronenbourg brewer's new chief executive officer, has lowered the company's profit forecast and Chief Financial Officer Joern P. Jensen announced his resignation Wednesday.
Carlsberg and other brewers are facing heightened competition from craft beers, made by smaller breweries that typically highlight their local appeal. Microbreweries supplied 11 percent of the U.S.'s beer in 2014, compared with 5 percent in 2010, according to the Brewers Association, based in Boulder, Colorado.
One midsized brewer may benefit from the deal: Molson Coors Brewing Co., whose stock surged as much as 15 percent. Analysts expect SABMiller would need to sell its stake in the MillerCoors LLC joint venture to Molson for AB InBev to get approval for a takeover. Such a purchase would boost the Denver-based brewer's earnings per share by 20 percent, Nomura estimated.
'Zero Complacency'
AB InBev's fixation on efficiency may complicate life for managers at SABMiller, according to Francois Mosnier and Eamonn Ferry, analysts at Exane BNP Paribas. In a March report, they collated a list of corporate slogans of the two brewers, arguing that the cultures clash.
"We are never completely satisfied with our results, which are the fuel of our company," says one of AB InBev's corporate maxims. "Focus and zero-complacency guarantee lasting competitive advantage."
SABMiller, which says it expects its people to "go the extra mile and to be dissatisfied with the concept of average," also says: "We work hard and toast our achievements... with (what else?) a cold beer at our onsite bar!"
Before it's here, it's on the Bloomberg Terminal.
LEARN MORE