AB InBev Approaches SABMiller in Record Industry Combination
SABMiller shares jump 20% after disclosing takeover approach

Acquisition would be biggest in brewing industry history
Anheuser-Busch InBev NV said it intends to make an offer to acquire SABMiller Plc in a deal that would unite the world's two biggest beermakers and control about half the industry's profit.
SABMiller gained 20 percent, boosting its market value to about 58 billion pounds ($90 billion), and AB InBev rose 6.4 percent. While no offer has yet been made, SABMiller is open to discussing a transaction with its bigger rival, according to people with knowledge of the matter. Both companies acknowledged the overture in public statements.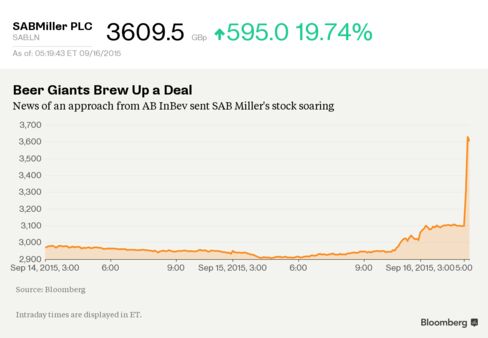 The acquisition of SABMiller would be the biggest in the industry's history and cap more than a decade of consolidation across brewing companies. A potential combination of the beermakers had been seen as likely for years as they have limited geographical overlap and are not controlled by a family foundation like their main competitors, Heineken NV and Carlsberg A/S.
"I'm glad to see this after the endless speculation of megabrew," said Ross Colbert, an analyst at Rabobank International.
According to the average of five estimates of analysts compiled by Bloomberg, AB InBev may pay more than 4,200 pence for each share of its rival.
Slowing Business
SABMiller shares closed at 3,614 pence in London. Before Wednesday, SABMiller's stock had fallen 19 percent in a year.
"Given that SAB's share price has been so weak in the last 12 months, it makes a deal much more affordable," Trevor Stirling, an analyst at Sanford C. Bernstein, wrote in a note.
The beer industry has used consolidation to stave off a slowdown in moreestablished markets such as Europe and the U.S., where drinkers are switching to craft brews and wine and spirits, or merely drinking less. AB InBev, led by Chief Executive Officer Carlos Brito, hasboosted revenue more than fivefold in the last 10 years with the help of almost $100 billion in acquisitions. Its growth is now set to slow over the next five years, estimates compiled by Bloomberg show.
Weakening economies in Brazil and China, two of the growth engines for brewersin recent years, may have hastened AB InBev's approach, according to Colbert. The resulting drop in beer consumption in those emerging markets "is driving the push for greater consolidation," he said.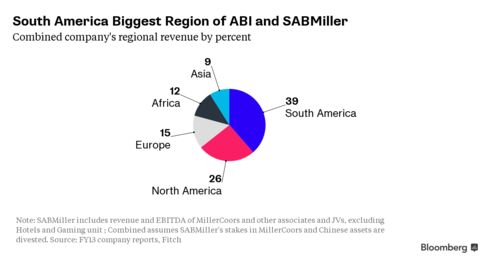 Under U.K. takeover rules, AB InBev has until 5 p.m. in London on Oct. 14 to
either make an offer or walk away. SABMiller disclosed the approach in response to what it called "recent press speculation."
Any deal would require the backing of Altria Group Inc., the largest
shareholder in SABMiller with a 27 percent stake. AB InBev will also need to
persuade the family of Alejandro Santo Domingo, among the richest clans in Colombia and the owner of a 14 percent stake in SABMiller.
AB InBev shares rose as much as 12 percent in Brussels, while SABMiller's U.S. partner Molson Coors Brewing Co. gained as much as 15 percent in New York.
Hurdles
To allow the deal to clear regulatory hurdles, analysts have said that
SABMiller would need to exit its joint venture in the U.S. with Molson Coors
Brewing Co., which is called MillerCoors LLC. AB InBev may also have to sell
SABMiller's 49 percent stake in CR Snow, its Chinese brewery partner. SABMiller also owns 20 percent of closely held French drinks company Groupe
Castel.
The two largest brewers have been seen as the endgame for global beer mergers. An acquisition of SABMiller, led by CEO Alan Clark, would give AB InBev access to more than $7 billion of revenue in Africa with brands including Castle lager and almost $4 billion of sales in Asia, reducing AB InBev's dependence on the Americas and Brazil.
With Latin America representing SABMiller's biggest market, a deal would also broaden AB InBev's presence in countries such as Colombia, Ecuador and Peru. Its Latin American brands include Cristal and Aguila.
AB InBev's growth has been based largely around acquisitions since it was formed through a series of purchases by a group of Brazilian businessmen led by Jorge Paulo Lemann. Some analysts have speculated that Lemann's 3G Capital could help orchestrate a takeover of SABMiller, just as it did when InBev NV bought Anheuser-Busch in 2008.
Lazard Ltd. and Freshfields Buckhaus Deringer LLP are advising AB InBev on its potential bid, people familiar with the matter said. SABMiller is being advised by Robey Warshaw LLP, JPMorgan Chase & Co. and Morgan Stanley, according to the company's statement.
Before it's here, it's on the Bloomberg Terminal.
LEARN MORE