U.K. Inflation Returns to Zero
U.K. inflation returned to zero in August, driven down by the cost of motor fuel and clothing. A measure of core price pressures also eased.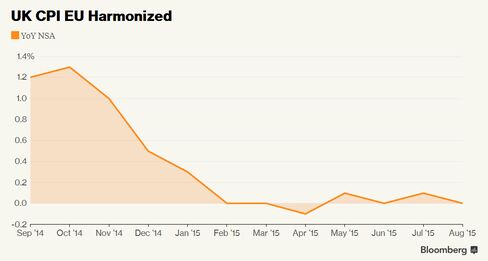 Consumer prices were unchanged compared with a year earlier following a 0.1 percent annual gain in July, the Office for National Statistics said in London Tuesday. The figure was in line with the median forecast of economists in a Bloomberg survey. Inflation excluding volatile food and energy costs slowed to 1 percent from 1.2 percent, also as predicted.
The figures may fuel expectations that the Bank of England is still months away from raising its benchmark rate from 0.5 percent. While a tightening labor market is putting upward pressure on wages, cheaper oil and food are keeping inflation well below the BOE's 2 percent target. Governor Mark Carney says the decision on when to end more than six years of record-low borrowing costs will come into sharper focus around the turn of the year.
The Monetary Policy Committee "can take its time with the first interest-rate rise," said Vicky Redwood at Capital Economics in London. "Inflation could yet drop back into negative territory before the end of the year" and "will still take a long time to return to its target."
The pound was little changed after the data and was trading at $1.5428 as of 11:39 a.m. in London.
Below Target
Cheaper motor fuels, in particular diesel, had the biggest downward effect on inflation with prices falling 3 percent compared with a 1.5 percent decline a year earlier. There was also pressure from clothing and footwear prices, which rose less last month than they did a year earlier, and from sea fares and cultural services such as theater and nightclub tickets.
Inflation has held below 2 percent target since the start of 2014, and it's been close to zero for much of this year. That's boosting consumer spending power, with data on Wednesday predicted to show underlying wage growth accelerating to 2.9 percent in the three months through July, the fastest in more than six years.
Pressure Building
Economists in a Bloomberg survey forecast that the BOE will raise its benchmark rate a quarter point in the first three months of 2016.
The inflation reading "does not mean our economy is about to lapse into deflation," said Andrew Sentance, an economist at PricewaterhouseCoopers and a former BOE policy maker. "Falling energy and food prices are pulling inflation down and this effect will wear off in the months ahead, with CPI inflation likely to rise back to 1-2 percent in the U.K. by the first half of next year."
Services inflation, a proxy for domestic price growth, slowed marginally to 2.3 percent in August from a four-month high of 2.4 percent in July. Goods prices fell 2 percent on the year.
Separate figures showed the cost of goods leaving factory gates fell 0.4 percent in August and were down 1.8 percent lower than a year earlier. Input prices declined 2.4 percent on the month and by 13.8 percent on the year.
U.K. house-price inflation fell to 5.2 percent in July, the slowest annual rate since September 2013. Prices in London rose 5.5 percent.
Before it's here, it's on the Bloomberg Terminal.
LEARN MORE