Turkey's AK Party Targets 100,000 Voters to Break Stalemate
Appeal to swing voters can restore party majority, study finds

Surveys predict another hung legislature after Nov. 1 vote
Turkey's most credible pollsters see little chance of Prime Minister Ahmet Davutoglu winning a majority at the Nov. 1 repeat election. Officials from his ruling AK Party say they've found a way to do it.
The party is aiming to regain votes in provinces where it saw support decline by 7 percent or more in June, Besir Atalay, an official and the group's former deputy chief, said on Monday. A study presented to the AK Party's leadership shows it could win back its single-party government with an extra 122,000 votes in a few key districts, according to Ergun Caglar, the party official who authored it. Forecasters say the strategy is too optimistic.
"These additional votes should be targeted," Caglar said by phone on Sept. 10. Senior party officials have commissioned more research based on his study, he said. "They should come from the 18 provinces where the AKP lost with a small margin, sometimes by a few hundred votes."
The party lost its parliamentary majority in the June 7 election for the first time since it came to power in 2002. It won 258 seats then, 18 shy of the number needed to govern alone, amid significant gains by the country's main pro-Kurdish party. Talks to form a coalition foundered over opposition demands for major changes to foreign policy and differences on the economy.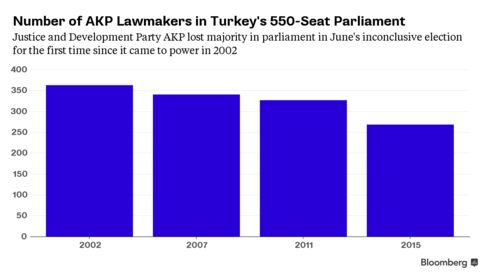 Since then, the AKP and its co-founder, President Recep Tayyip Erdogan, have launched a crackdown against the Kurdish HDP party. The AKP is also exploring a possible election alliance with a smaller Islamist party, known by its Turkish acronym SP. The SP said alliance talks collapsed after the AKP refused to meet its demand for 20 lawmakers in parliament, Al Jazeera Turk reported, citing SP official Oguzhan Asilturk.
Foreign investors have fled Turkish assets since June's inconclusive poll plunged the nation into a political crisis, with a three-year truce with separatist Kurdish militants also collapsing. The surge in violence ahead of November's repeat election drove the perception of risk, as measured by credit default swaps, to the highest level in three years.
According to Atalay, the AKP official, the party is also focusing on gaining more lawmakers by closing the gap in districts without necessarily winning them.
'Nearly Impossible'
Pollsters pointed to flaws in the strategy.
"Is it possible to gain votes somewhere without losing in other electoral areas? This is nearly impossible," Adil Gur, head of the A&G polling company, said Sept. 9.
"This approach assumes that all the other voters, excluding the swing ones, will behave in the exact same way that they did in the June vote," said Gur, who before the June vote predicted the AKP would win 42 percent, 1.1 percentage point above the actual result. "You wouldn't get the same result even if you were to hold two general elections back-to-back within a week."
Before it's here, it's on the Bloomberg Terminal.
LEARN MORE