Transnet Would Consider Sale of Stake in Luxury Blue Train
Selling a stake could be a `first step', acting CEO says

Blue train service runs between Cape Town and Pretoria
Transnet SOC Ltd., South Africa's state-owned ports and rail operator, would consider selling part or all of the luxury Blue Train, the company's acting Chief Executive Officer said.
"If the price is right," Siyabonga Gama said in an interview at Bloomberg's Johannesburg office on Sept. 10, when asked about a potential deal. "We would sell a stake, probably that would be a first step."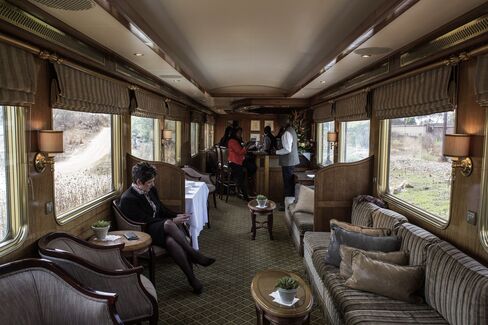 Transnet last week announced a marketing partnership with hotelier Sun International Ltd. to help increase the appeal of the Blue Train, which offers rail travel between Pretoria, South Africa's capital, and Cape Town for as much as 28,870 rand ($2,115) per person for a 27-hour journey. It's the only passenger train service operated by Johannesburg-based Transnet, with the majority of routes run by the Passenger Rail Agency of South Africa.
Sun International operates casinos and golf resorts, including Sun City, north-west of Johannesburg. The company was picked by Transnet to develop a marketing campaign for the Blue Train ahead of a potential recapitalization.
"It's far too early" to comment on what may happen beyond the non-commercial agreement, Sun International spokesman Michael Farr said by phone on Sept. 11.
Sun International will examine the possibility of reintroducing a route from Pretoria to Victoria Falls, which straddles the border between Zimbabwe and Zambia, he said.
Before it's here, it's on the Bloomberg Terminal.
LEARN MORE