The Central Bank With No Currency, No Interest Rates, But ATMs
Breakaway region in Ukraine tries to build financial system

Donetsk People's Republic rebel says Russia keeps it afloat
The Republican Central Bank has a governor, a couple of thousand employees and a glass-and-steel headquarters. It also has a bunker in its basement.
Here's what the nascent, self-proclaimed Donetsk People's Republic in eastern Ukraine is missing: a financial system. Absent from the central bankers' toolkit are a currency and interest rates.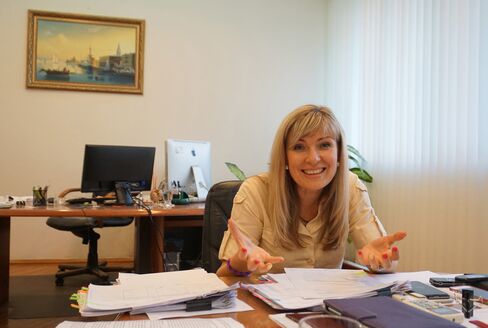 Set up 11 months ago, the fledgling institution is the first building block by pro-Russian rebels to manage the economy in the vacuum created by the war to break away from Ukraine. Dependent on almost $40 million a month from their patrons in Moscow just to pay pensions and on a circuitous transfer system via another Russian construct in northern Georgia, the Donetsk officials say they're making progress.
"We are proud that our bank is working, that we made a processing center," chairwoman Irina Nikitina, 47, a former chief executive officer at a local bank. She spoke in her office at a building the rebels took over from Ukraine's Eximbank. "We built the system, we want to improve it."
New Ceasefire
Ukraine said last week that shelling in the eastern conflict zone stopped for the first time in 18 months, raising hopes that a recent truce might hold. The fighting has left almost 8,000 people dead, according to the United Nations. It's also wrecked local commerce.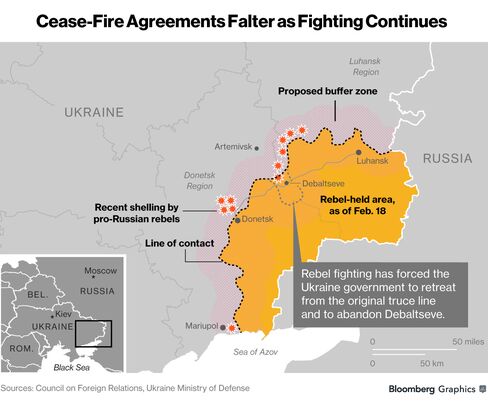 Coal and metals exports were the main earners before the violence flared last year. Now the region is mostly reliant on Russian financial aid and taxes the government tries to gather from local businessmen by requiring them to open accounts at the central bank to pay suppliers.
The Kremlin has repeatedly denied involvement in the Ukraine conflict, for which it is under sanctions from the European Union and the U.S. President Vladimir Putin's spokesman Dmitry Peskov said he wasn't aware of any specific payments, though "Russia from the very beginning has had and will continue to provide humanitarian aid" to the region.
Two people in the rebel administration said Russia transfers 2.5 billion rubles ($37 million) for pensions every month. They declined to be identified, citing security concerns. So far, the slump in Russian finances hasn't hit them, Nikitina said. The ruble has declined more than 40 percent over the past year as the oil price halved and Russia forecasts its economy will shrink by as much as 4.4 percent this year.
Local Smokes
Figuring out what the republic's economy really looks like isn't easy in the city of 1 million people hit by shells intermittently since early 2014. The central bank last used its bunker in May.
While there are no reliable statistics, prices are as much as three times what they were before the fighting, said Alexander Khodakovsky, a military commander and secretary of the self-proclaimed republic's security council.
In local stores, Ukrainian-made food is making way for Russian produce. One of the few available local brands is Novorossiya, or "New Russia," cigarettes, low-grade tobacco popular among rebel fighters.
Cash, of course, rules and stores and markets price goods in rubles and hryvnia. During the summer, the currency rates were set to make paying in rubles cheaper than hryvnia and drive out the Ukrainian currency, officials said.
Russian goods are imported by local entrepreneurs who now have 14,000 accounts in total at the central bank, Nikitina said. They allow an importer to pay Russian suppliers through a Russia-based credit union or through a bank in South Ossetia, a pro-Russian region that broke away from Georgia after a conflict in 2008.
Cash Machines
Back at the offices of the Republican Central Bank, Nikitina oversees about 2,000 employees, roughly equal to about three-quarters of the European Central Bank's work force in Frankfurt.
The Donetsk entity acts more like a monopoly commercial bank as the aspiring policy makers learn the ropes. Her deputy, Yury Dmitrenko, said they mostly surf the Internet to learn about central banking mechanisms, using Russian, Ukrainian, Belarusian and European examples.
A prominent local politician announced plans in December for Donetsk to print its own money, banknotes called "nominal symbols of Novorossiya," though there's been no word since as the ruble replaced the hryvnia as the de facto currency.
Rubles make up 90 percent of local currency stock, according to the central bank. Its network of nine ATMs now only service ministerial workers, according to Nikitina.
The ATMs display a military monument, a Soviet-style tribute to the fighting in Donetsk. The machines accept only local cards and the only operation is withdrawal. Some 300,000 cards are ready for issue, Nikitina said.
"We are optimists," she said. "We are sure that our cards will be soon used even abroad."
Before it's here, it's on the Bloomberg Terminal.
LEARN MORE