Takeover Fears Make TDC Credit Default Risk Jump Most in Europe
CDS is worst performer in Europe's telecommunication industry

Danske says Com Hem deal would jeopardize TDC investment grade
TDC's credit default swaps show investors see risk building faster in the Danish phone company than in its European peers.
The deterioration follows concern that TDC might be considering an acquisition that has the potential to damage its credit metrics.
TDC's five-year credit default swaps are up about 58 percent this year, according to quotes provided by CMA. That's the worst performance among all 29 European telecommunication default swaps tracked by Bloomberg. The quotes spiked last week after Bloomberg News reported TDC had been in on-and-off talks with Com Hem on a potential takeover.
"The market is a bit uncertain about TDC: will it make acquisitions or will it not," Ola Heldal, an analyst at Danske Bank, said by phone. "TDC is already facing a lot of challenges on the Danish market where competition is fierce. And then this Com Hem acquisition still lurks in the background."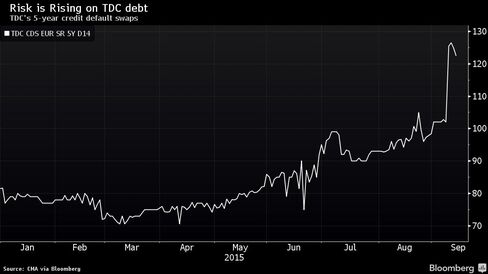 TDC shares and bonds have also suffered. Its 3.75 percent 500 million-euro ($565 million) bond due in 2022 yielded about 1.9 percent on Tuesday, up from a 2015 low of 1.02 percent on March 10. Its spread to the government yield curve is 167 basis points, compared with a low of 103 in March.
TDC in 2014 unnerved its bond and share investors with a takeover of Norwegian cable provider Get for 13.8 billion Norwegian kroner ($1.7 billion). The purchase forced TDC to cut its dividend payment ratio and prompted Moody's Investors Service to lower its credit rating.
"TDC had for years been a divesting company and then last year's Get takeover came as a surprise and went against that strategy," Heldal said.
The rise in TDC's default swaps is probably a result of "takeover rumors and speculation," Ib Konrad Jensen, the company's chief press officer, said by phone. He declined to comment further.
Investment Grade
"We know that TDC would like to own Com Hem, but I don't think it will happen, given TDC's balance sheet," Heldal said. "TDC has pledged to protect its investment grade and the company will also have to look after its shareholders and its dividend policy. TDC would have to conduct a massive equity issuance to finance a Com Hem takeover if the company wants to avoid losing its investment grade."
Rickard Hellman, a credit analyst at Nordea, also believes TDC would be interested in owning Com Hem. Still a takeover won't happen "in the near term," he said in a Sept. 9 note.
"A transaction would be negative for the pricing of TDC's outstanding capital, partly due to the expected rating downgrade, partly due to the increase in supply of both bonds and hybrids," Hellman said.
TDC is rated BBB with a negative outlook at both Fitch Ratings and Standard & Poor's, while Moody's has a stable outlook on its Baa3 grade.
Credit Negative
TDC's bonds suffered a further setback last week when TeliaSonera and Telenor scrapped a merger of their Danish businesses amid European Union regulatory concerns.
The merger withdrawal is "marginally negative" for TDC, Moody's said in a Sept. 14 note, while Fitch called it "potentially negative" as the Danish company would have "benefited from less competitive intensity and reduced market risk."
"TDC faces stiff competition in its domestic market where regulatory and pricing pressures remain strong," Tajesh Tailor, a director at Fitch, said in the Sept. 11 note.
Before it's here, it's on the Bloomberg Terminal.
LEARN MORE