Ocado Unfazed by Amazon's Possible Entry to U.K. Grocery Market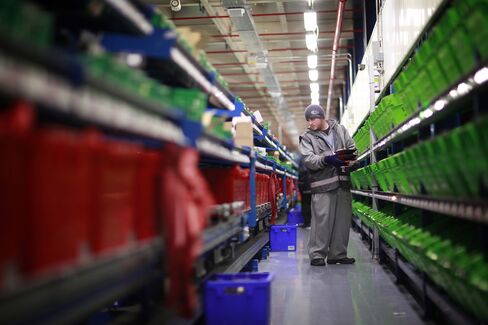 Amazon took lease on warehouse outside London last month

Ocado says larger online grocery market `would be good for us'
Ocado Group Plc downplayed the potential impact of an entry by Amazon.com Inc. to the British grocery market as speculation mounts that the U.S. online giant may bring its "Fresh" delivery service to the U.K.
Amazon, which has a history of eschewing short-term profit to build market share, may be a positive catalyst for the grocery market by drawing more customers to shop online, Chief Financial Officer Duncan Tatton-Brown said on a conference call Tuesday. He said he wouldn't be surprised should Amazon enter the market, a move that analysts have would present a threat to Ocado.
Amazon, which has more than 7,000 non-food workers in the U.K, said last month that it took a lease on a warehouse just outside London, fueling speculation that it is seeking to start a British grocery service. The online retailer's "Fresh" service already offers groceries in New York City, Seattle, Philadelphia and parts of California. Amazon hasn't disclosed the purpose of the warehouse in Weybridge, Surrey.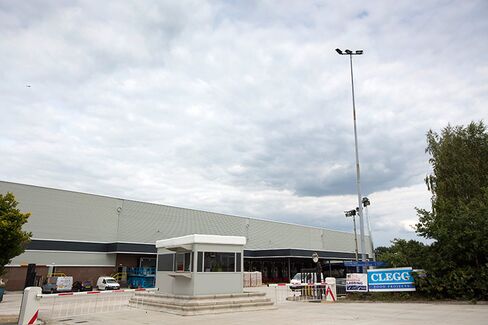 A larger online grocery market in the U.K. would be "good for us," Tatton-Brown said. Ocado's share of the market is less than 20 percent, he said.
The possibility of an incursion by Amazon has weighed on Ocado shares, which have lost about a third of their value in the past two months.
"The online competitive environment could heat up quite a bit with Amazon Fresh," Clive Black, an analyst at Shore Capital, said in a note. Ocado is "most exposed" should Amazon enter the market.
Ocado on Tuesday reported quarterly sales growth of 15 percent, matching analyst estimates, and confirmed that talks continue with international grocers keen to license its technology to help expand their online operations.
The continuation of the talks is "seen as reassuring," Charles Allen, an analyst with Bloomberg Intelligence, said by phone.
The shares rose 1 percent to 319 pence as of 9:52 a.m. in London.
Ocado has only a few months left to deliver on its target of signing a technology licensing deal this year, having forged its first such partnership with Wm Morrison Supermarkets Plc in the U.K. in 2013. Executives spent "a fair amount of time" on airplanes during the summer, Chief Financial Officer Duncan Tatton-Brown said on a conference call.
Ocado's average order value declined by 1.1 percent in the 12 weeks, an improvement on the 2.4 percent drop in the six months prior to that, Tatton-Brown said.
The slowing of the decline reflects fewer price cuts by U.K. grocers, he said, although the respite may be only temporary amid a price war between supermarkets. Last week, Morrison CEO David Potts vowed to cut prices further, while J Sainsbury Plc and Tesco Plc have also left the door open to further cuts to combat the threat from discount chains Aldi and Lidl.
Before it's here, it's on the Bloomberg Terminal.
LEARN MORE