North Korea Vows Satellite Launch That May Violate UN Sanctions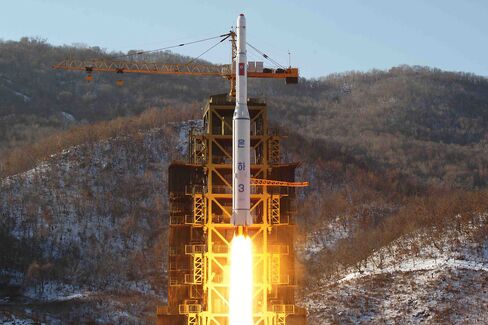 U.S., South Korea warn against ballistic missile tests

North Korea statement ahead of ruling party 70th anniversary
North Korea said it is preparing to launch a rocket to carry a satellite into space, prompting criticism from the U.S. and South Korea that view such actions as violations of United Nations resolutions against Pyongyang's testing of ballistic missiles.
North Korea is in the final phase of developing a new satellite for Earth observation and its launch is a "peaceful project" intended to help improve the economy, the official Korean Central News Agency said. While the timing of the launch isn't set, the country's engineers are working hard to honor the 70th anniversary of the founding of the ruling workers party on Oct. 10 with with "scientific progress," KCNA said.
The North often uses historic events to show off advances in its military hardware. A long-range rocket launch risks re-stoking tensions that were eased when South Korea and North Korea agreed last month to defuse a military standoff and seek better relations. The countries are planning to resume reunions of families separated by the Korean War on Oct. 20-26 at a North Korean resort.
The Kim Jong Un regime last launched a long-range rocket in December 2012, putting a satellite in orbit. It conducted a nuclear test two months later, drawing tighter sanctions under UN Security Council resolutions.
"Any satellite launch using ballistic missile technology would be a clear violation of those resolutions," U.S. State Department spokesman John Kirby said in a briefing Sept. 14 in Washington.
South Korea hasn't seen signs of an imminent missile launch, Defense Ministry spokesman Kim Min Seok said in a briefing in Seoul Tuesday. Any launch would be a "grave provocation," and South Korea and the U.S. are cooperating to detect "all situations" regarding North Korea's long-range missiles, he said.
Before it's here, it's on the Bloomberg Terminal.
LEARN MORE