New Balance has been making shoes for more than a century. Now, with its running and casual sneaker business humming along—sales hit $3.3 billion in 2014, up 21 percent from 2013—the privately held company is making a big play for women with a revamped apparel line.
NB Women will hit stores this fall, and the 72-page catalog to accompany its release is filled with "athleisure" fare, items meant to be worn both during workouts and throughout the day. There's a $120 high-collared "en route" jacket and $85 "fashion crop" pants, with print details at the waist and legs. The goal is to grab a formidable slice of the U.S. women's activewear market, which represents more than $18 billion in annual sales, according to research firm NPD Group, and is dominated by such giants as Gap, Nike, and Lululemon.
New Balance has spent 18 months preparing for its push to sell more workout clothes to women. A team of around 100 people at the company is dedicated to both men's and women's apparel, spread among the company's Boston headquarters, regional design centers in the U.K. and Hong Kong, and a factory and innovation center in Lawrence, Mass. Making the new line fashionable and on-trend has been a priority, but designers inside the factory's studio have also been focusing on new fabrics, ways to regulate temperature and wick away moisture, and provide better freedom of movement. "Women desire form and function in equal measure," said Deirdre Fitzgerald, vice president of global apparel at New Balance. "That's critically important to her."
Take New Balance's "Get Back Racerback," a stretchy workout top with a shelf bra with mesh panels for airflow and NB Dry fabric that releases moisture away from the body. Other items boast of heat fabric that captures warmth, wind- and water-resistant jackets, and anti-chafing items.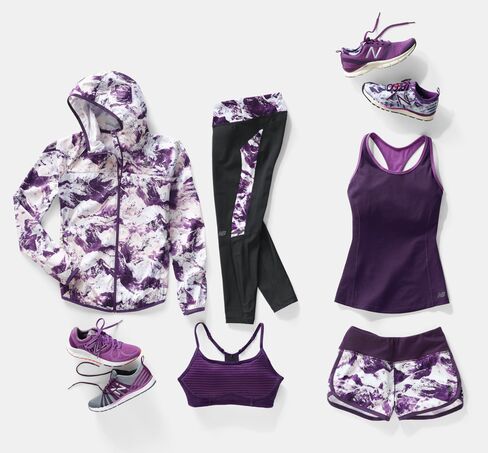 New Balance also wants to be a more understated, aspirational label. Huge NB logos aren't plastered all over the new outfits. "We're not Nike; we're not Adidas," said Norma Delaney, head of global marketing at NB Women. "We're not about badging on everything. It's about being an intelligent choice for her." Delaney said New Balance hasn't done the best job of attracting women in the past but now identifies the NB Women's customer as the "metropolitan female athlete." The customer's a woman aged 24 to 34 who was probably an athlete in high school or college. No longer participating in organized school sports, she's into intense group-training programs such as Soul Cycle, Flywheel, and Pure Barre.
To reach the group-training crowd, New Balance is following Lululemon's lead by hosting in-store events to get customers to keep coming back. Girls Night Out, which New Balance calls an "ever-changing lineup of endorphin-fueled fitness," is an ongoing series of events hosted at stores across the country. On Sept. 24, dozens of locations will host evening Strength Is Beauty events at which fitness instructors and personal trainers lead workouts, followed by food and drinks.
New Balance's play for the female athletic wear market has come at a competitive time. While major labels duke it out, a glut of new companies such as Outdoor Voices and Fabletics have popped up, hoping to win women with indie vibes. It makes for a tough environment to sell racerback tops and compression pants. "It's Lululemon, Athleta, then everybody else," said Margaret Bogenrief, co-founder of boutique consultancy ACM Partners. "It's always hard to follow, but if the rollout is smooth and you're given a long enough runway, then it can work."
Before it's here, it's on the Bloomberg Terminal.
LEARN MORE