More Than 500,000 Migrants Found at EU Borders This Year
More than 500,000 migrants were detected at external borders of the European Union in the first eight months of this year, according to EU border-management agency Frontex.
The figure is almost double the 280,000 detections at EU borders in 2014, according to a statement from the company.
https://twitter.com/FrontexEU/status/643725621638598656
Frontex released the figure shortly after Executive Director Fabrice Leggeri told Bloomberg TV the agency "discouraged" Hungary's move to close its border with Serbia in an effort to stop an influx of migrants.
"We encourage cooperation with neighboring countries, in this case Serbia," Leggeri said.
"The most important thing is that Hungary, Greece have reception centers where immigrants can be accommodated in a decent way."
In Brussels, EU foreign policy chief Federica Mogherini said Europe's refugee crisis cannot be stopped with a fence.
"There is no way such a desperation – of people ready to face the risk of dying, together with the children – there is no illusion that this can be stopped with a fence or with a wall," she told the European Parliament.
"Creating legal channels is the best way of fighting traffickers and smugglers. I think this is evident to everybody, both when it comes to immigration and it comes to refugees."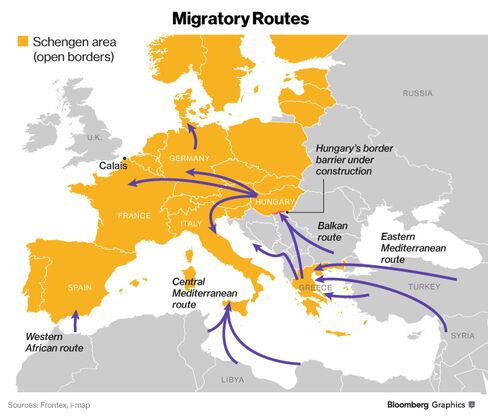 Before it's here, it's on the Bloomberg Terminal.
LEARN MORE