Manufacturing in U.S. Declines by Most Since January 2014
Production at nation's automakers retreats after July surge

Output decreases at mines and rebounds at utility companies
Factory production declined in August by the most since January 2014 as automakers scaled back after a surge the month before and a stronger dollar weighed on demand from overseas customers.
The 0.5 percent decrease followed a revised 0.9 percent advance in the prior month, the Federal Reserve reported Tuesday. Excluding motor vehicles, factory production was unchanged. Total industrial output, which also includes mines and utilities, fell 0.4 percent after a 0.9 percent gain.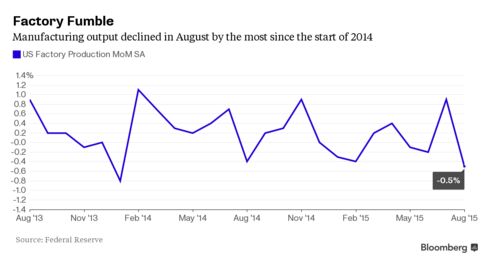 Tepid economies abroad, elevated inventories in the U.S. and an appreciating dollar signal limited order growth for domestic producers. The strength of manufacturing will depend on whether consumer spending remains resilient and corporate investment can build momentum.
Weakness Ahead
"It's a combination of inventory adjustment domestically and weak growth abroad not aided by the strong dollar," said Josh Shapiro, chief U.S. economist at Maria Fiorini Ramirez Inc. in New York, who correctly projected the drop in industrial output. "I would expect for the next few months, we're going to get soft numbers here and any improvement is going to be gradual."
Empire State
Manufacturing in the New York region contracted in September for a second month, reflecting falling orders and employment. The Federal Reserve Bank of New York said Tuesday that its general economic index was little changed at minus 14.7 after minus 14.9 in August.
The median forecast in a Bloomberg survey of economists called for a 0.3 percent decline in U.S. factory output and a 0.2 percent drop in total industrial production.
Output of motor vehicles decreased 6.4 percent after jumping 10.6 percent. The retreat was reflected in declining production of consumer goods and business equipment.
Utility output rose 0.6 percent after falling 0.2 percent the previous month, while mining declined 0.6 percent after climbing 1.8 percent.
For manufacturing, which makes up 75 percent of total production and accounts for about 12 percent of the economy, the July reading was revised from a 0.8 percent increase.
Capacity utilization at factories, mines and utilities fell to 77.6 percent from 78 percent in the prior month, the report also showed.
Before it's here, it's on the Bloomberg Terminal.
LEARN MORE