Look Out New Zealand, Here Comes Another Act of God
Droughts in 1998 and 2008 helped send economy into recession

Brewing El Nino weather pattern is strongest in 18 years
As if a sharp fall in the price of milk, New Zealand's biggest export, wasn't bad enough, the country is now bracing for a summer drought that could further hurt farmers and raise the risk of recession.
The most severe El Nino weather pattern in at least 18 years is brewing and set to bring dry winds and below-average rainfall to the South Pacific nation in the months ahead. That will play havoc with dairy farmers and other agricultural producers that together account for a third of New Zealand's export earnings.
While no economists are yet forecasting a recession, central bank Governor Graeme Wheeler last week said if the El Nino is severe and continues into the middle of 2016, a contraction could be the result. The National Institute of Water & Atmospheric Research says soil moisture levels are already falling in eastern regions and there is an elevated risk of drought later in the summer amid signs the weather event may be the worst since 1998.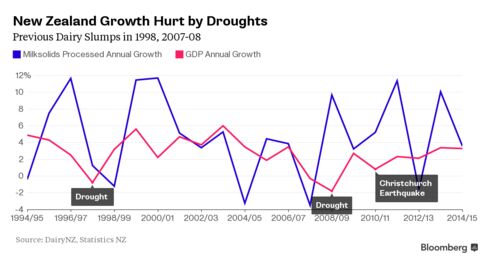 Severe Droughts
New Zealand's economy, while among the world's most developed, is particularly vulnerable to nature turning against it. The country suffered its most recent recession in 2010 after an earthquake struck the city of Christchurch, while the two previous economic contractions in 2008 and 1998 coincided with severe droughts and slumps in financial market sentiment.
Agriculture and food processing industries make up about 9 percent of the nation's gross domestic product, making the economy sensitive to climate swings and global demand.
"Over history, to get into recession we need to have multiple shocks," said Nathan Penny, an economist at ASB Bank Ltd. in Auckland. "A drought makes us vulnerable, and if we got a drought plus say a shock from China then that would make a recession quite possible."
Rate Cuts
Wheeler on Sept. 10 cut the cash rate to 2.75 percent -- the third reduction in three months -- and said further easing may be required.
"The conditions that probably would be needed to create a recession in New Zealand would be something like China slowing dramatically or perhaps moving into a recession," he told reporters. "If the El Nino impact really took hold and continued right through into the middle of next year or thereabouts that could have a significant effect as well."
The 2007-08 drought was caused by a La Nina weather pattern that hit dairy producing regions in the nation's North Island hardest. It cost the New Zealand economy NZ$2.8 billion ($1.8 billion), according to government estimates. The economy shrank for five straight quarters from early 2008, and the central bank slashed interest rates as the slump deepened and then the global financial crisis took hold.
A report tomorrow will probably show growth in the 12 months ended June 30 was 2.5 percent, down slightly from 2.6 percent in the previous quarter, according to the median forecast of 15 economists surveyed by Bloomberg.
Tough Time
Dairy farmers along with beef and lamb producers say they are already having a tough time even before the El Nino hits.
Dairy auction prices hit a 12-year low on Aug. 4 amid a global glut and weak demand from China. Fonterra Cooperative Group Ltd., the world's biggest exporter, cut its forecast payments to New Zealand farmers to NZ$3.85 a kilogram of milksolids -- the lowest in 10 years.
Fonterra expects a drop in milk output in the season ending May 31 as farmers cull cows and stop buying extra feed, and it is offering less product at auctions. Dairy prices jumped 16.5 percent at an auction yesterday from the previous sale on Sept. 1, the third consecutive double-digit gain. Still, they are more than 50 percent lower than their peak in 2013.
The recovery has led some economists to raise their forecast for Fonterra's payment to as much as NZ$5 a kilogram.
The payment to farmers "would still be below the cost of production for many," said Doug Steel, senior economist at Bank of New Zealand Ltd. in Wellington. He is assuming milk production will fall about 4 percent this season and has trimmed his forecasts for export volumes next year in anticipation the El Nino will hurt sheep and beef farmers who occupy the nation's eastern regions.
"We have had a tough autumn in a lot of places," said Andrew Burtt, chief economist at industry body Beef+Lamb New Zealand. "Grass isn't growing so well and that's having a impact on how well farmers will be able to finish lambs. It might lead to light lambs."
The odds of a recession "are not particularly high" right now, Steel said. But "if drought was to get harsh enough it's certainly on the cards."
Before it's here, it's on the Bloomberg Terminal.
LEARN MORE