Jefferies Sued Over Culture That Made Women `Sex Objects'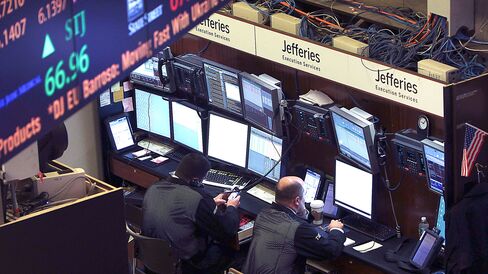 Ex-employee seeks more than $5.4 million in London lawsuit

Alleges colleague `hired' women to attend client dinner
A former Jefferies Group saleswoman sued the investment bank for 3.5 million pounds ($5.4 million), saying male colleagues treated female co-workers as "sex objects" and fostered a "culture of discrimination" that led her to quit.
Dalal Alaoui Belghiti, who worked on the company's European credit sales team until March 2014, told a London court that her mental health suffered as she became "isolated and excluded" by male staff. The bank said her allegations were unfounded.
Alaoui Belghiti said male colleagues would be openly derogatory about women suggesting that if someone was attractive "they had a 'bid' for her, whilst to denote unattractiveness they would say 'offer only,'" according to her witness statement.
"These men could say what they liked and were apparently beyond reproach, so I didn't want to make myself a target," Alaoui Belghiti, a Moroccan national with British citizenship, said in her statement. Women "were seen as mere sex objects."
The lawsuit is the latest discrimination case to reach the London employment tribunal -- which has seen its caseload swell as traders sue their former companies in the wake of currency and Libor-rigging scandals. Commerzbank AG was sued earlier this year in London by a director who said she was discriminated against in an environment more akin to a fraternity where she was isolated by discussions held in German, or at bars.
'Off-Color'
Alaoui Belghiti said one colleague who was "best known for his off-color remarks and inappropriate behavior," once hired four women as "entertainment" at a client dinner she attended. At a club "all four women began to touch the men suggestively and to take their hands and press them against their bodies in a sexual manner."
"Her allegations are meritless and we expect to prevail at the tribunal," Richard Khaleel, a spokesman for Jefferies in New York, said in a statement.
The bank said in court that her lack of experience in the industry and her disengagement with the team led to her poor performance.
"You have had problems where you worked before due to your personality," James Laddie, Jefferies' lawyer, said to her in cross-examination Tuesday. Alaoui Belghiti's profit and loss was "hugely down" in 2013 compared to the previous year, he said.
'Temper'
"I acknowledge I have a temper and have always been ready to voice my opinion and stand up for myself," she said in her witness statement. Alaoui Belghiti, who said she was diagnosed with adjustment disorder and depressive anxiety symptoms as a result of her time at Jefferies, resigned in March last year.
"I am not the type of person who just gives up or leaves because the going gets tough," she said in her statement. "I do not know if I will be able to work in finance again."
Most employment claims in the U.K. must be filed within three months of a dismissal to be allowed to proceed. Damages in employment cases are normally capped at about 78,300 pounds, unless there is a finding of discrimination or the claimant wins status as a whistle-blower.
Before it's here, it's on the Bloomberg Terminal.
LEARN MORE