In Latin America, Rate Bets Surge After Peru Blindsides Traders
Peru lifts key interest rate after slump in sol fans inflation

Swaps show Colombia, Chile to follow suit as currencies tumble
Peru's surprise interest-rate boost last week may turn out to be just a precursor of what's to come in Latin America.
The Andean nation increased its key rate for the first time in four years to quell an inflation surge triggered by the sol's plunge.
Like Peru, Chile and Colombia are also contending with soaring consumer prices after their currencies tumbled. That's prompted traders to ratchet up bets their central banks will also have little choice but to raise borrowing costs. The moves threaten to deepen the slowdown in economies already battered by the collapse of commodity prices.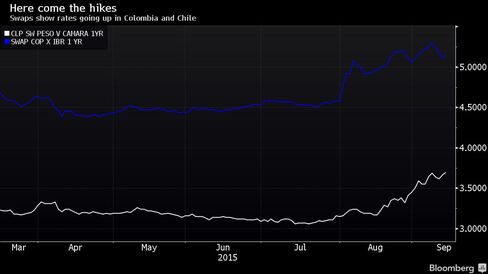 "All the Andeans face a similar conundrum of slower growth but higher inflation for quite some time," Alejandro Cuadrado, the global head of currency strategy at Banco Bilbao Vizcaya Argentaria SA, said from New York. "Peru was the first to pull the trigger and opened the door for going beyond the debate that was already taking place in Chile and Colombia."
Only three of 17 economists surveyed by Bloomberg predicted Peru would raise its key rate by 0.25 percentage point to 3.5 percent. And more increases may be in store as inflation accelerates to 4 percent, the fastest since 2012.
Yield on Peru's benchmark sol-denominated bonds due 2017 jumped to 4.75 percent yesterday, the highest since 2010.
Peru's central bank didn't respond to an e-mailed request for comment on the outlook for borrowing costs.
In Colombia, policy makers will increase their benchmark by a quarter point this month and in December, according to trading in three-month rate swaps. The country's currency has sunk 21 percent in 2015, the most in Latin America after Brazil's real. That's helped push inflation to 4.7 percent, above the central bank's 2 percent to 4 percent target.
In a report yesterday, Barclays Plc said Colombia will boost borrowing costs to 5 percent by year-end from 4.5 percent.
"Additional hikes might be necessary in 2016 to ensure the convergence of inflation towards the target," according to the report.
Colombia's central bank declined to comment on the rate outlook.
Chilean rate-swap yields yesterday climbed to a record 3.7 percent and indicate traders now expect the nation to raise rates by 1 percentage point in the next year. Consumer prices have climbed 5 percent in the past 12 months, the fastest since November. The move comes as the peso hovers near a 12-year low.
The Chilean central bank's press office said the bank can't comment before today's monetary policy meeting.
"Among the Andean economies there's been a lot of inflation pass-through and probably that makes Chile and Colombia the most likely to follow Peru," Win Thin, the head of emerging-market strategy at Brown Brothers Harriman, said from New York.
Before it's here, it's on the Bloomberg Terminal.
LEARN MORE