Corbyn Faces Cameron for First Time in Westminster Showdown
Jeremy Corbyn, the newly elected leader of Britain's opposition Labour Party, will face David Cameron for Prime Minister's Questions in Parliament for the first time at midday in London Wednesday.
These weekly half-hour sessions, in which the premier and opposition leader debate against a background of yelled support and heckling from the rest of the House of Commons, are dreaded by the leading participants, loathed by many observers and ignored by most of the public. But they can still provide defining moments in British politics.
A smart line during the televised confrontations can create or destroy a reputation. A good performance by a leader can buoy his side's morale, while a weak one can lead to the collapse of a position. In Corbyn's case, with many Labour members of Parliament either doubtful of his leadership or hostile to it, the stakes are even higher.
"It must be incredibly difficult to stand up and know that 90 percent of the people behind you wish you weren't there," said Tim Bale, professor of politics at Queen Mary University, London. "If you do well, it gives you a chance of stamping your authority on the party."
As Labour's most socialist leader in a generation, Corbyn has seen critics warn his policies will gift the next election to Cameron's Conservatives. Education Secretary Nicky Morgan joined criticism of Corbyn Wednesday after he refused to sing the national anthem at a commemorative event in London's St. Paul's Cathedral the day before.
Silent Welcome
Elected with the votes of hundreds of thousands of new party members and supporters but with the backing of very few lawmakers, Corbyn has seen many leading Labour figures refusing to join his shadow cabinet. He was greeted with silence rather than enthusiasm when he arrived for his first meeting with the Parliamentary Labour Party Monday evening.
Corbyn has, like many incoming party leaders before him, promised a "new politics," saying he wants to end the "theatrical abuse" that's such a feature of PMQs. Following his election, he e-mailed party supporters asking them to send in questions for him to ask. "I want to be your voice," he said. As of Monday evening, he had received 33,000 responses. He has also floated the idea of getting other senior members of his team to take his place.
Miliband Approach
His predecessor as Labour leader, Ed Miliband, also talked initially of scaling back the confrontational nature of the event, before finding himself conforming to the traditional style.
That may have been because the format offers opportunities for opposition politicians to cut through.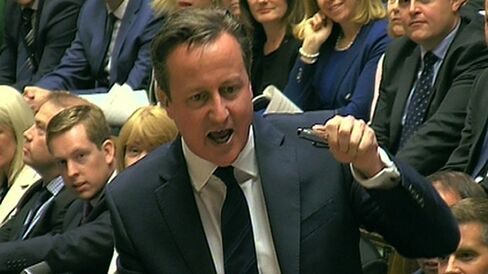 Cameron won the show in his first session as Tory leader a decade ago, when, facing Labour Prime Minister Tony Blair, he remarked: "I want to talk about the future. He was the future once."
Blair had had his own moments. In 1997, months before his first landslide election victory, he taunted Conservative Prime Minister John Major as "weak, weak, weak" over his inability to corral his lawmakers into a coherent position on Europe. Two years earlier, he'd delivered what Major regarded as the best attack he'd faced: "I lead my party, he follows his."
Brown Epitaph
The opposition leader gets the chance to ask only six questions at PMQs, so lesser-known politicians can also use the platform to break through.
In 2007, Vince Cable of the Liberal Democrats provided the epitaph for Labour's Gordon Brown, only a few troubled months into his time as Blair's successor: "The house has noticed the prime minister's remarkable transformation, in the past few weeks, from Stalin to Mr. Bean," he began. The laughter, from all sides, was a mark of how far Brown's star had fallen.
Corbyn won the Labour leadership while defying conventions about politics. His first big set-piece since his win -- a speech to the Trades Union Congress on Tuesday -- showed off a slightly unfocused, circumlocutory style. His first PMQs is a test of whether that different approach can work with a larger audience.
"People don't pay much attention to politics," said Bale. "What they see is a quick snippet of Prime Minister's Questions on the news, and they form their opinions from those soundbites."
Having turned the Labour Party on its head, Corbyn is now trying the change the way the entire country does politics.
Before it's here, it's on the Bloomberg Terminal.
LEARN MORE