GM CEO Barra Resists Fiat Merger Call as Renzi Backs Marchionne
Barra reiterates that advisers caution against Fiat proposal

Italy Premier Renzi `hopes' Fiat will combine with GM
General Motors Co. Chief Executive Officer Mary Barra said the U.S. carmaker will continue to resist Fiat Chrysler Automobiles NV CEO Sergio Marchionne's call to combine with his company because all signs point to independence as helping investors the most.
"We have studied that issue in great detail, both with internal resources and external experts, and it's not in the best interest of General Motors' shareholders" to merge with Fiat Chrysler, Barra told reporters at the Frankfurt International Motor Show. GM has the scale needed to achieve the "best return possible to our shareholders."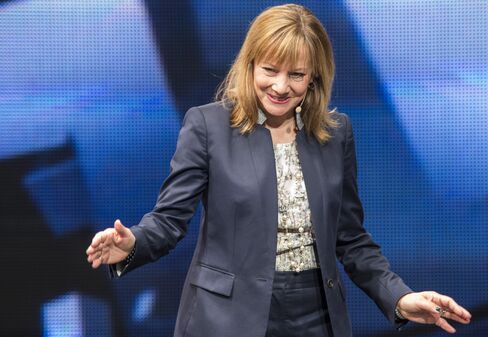 Marchionne, 63, has been crusading for consolidation in the auto industry, including in an April presentation called "Confessions of a Capital Junkie." He argues that automakers waste money by developing multiple versions of the same technology and so should merge. He's largely narrowed his focus to GM as a potential target because it shares a multibrand strategy with London-based Fiat Chrysler, which was created in 2014 from the merger of Italian carmaker Fiat and U.S. counterpart Chrysler. In addition, Detroit-based GM doesn't have family shareholders to defend it like Ford Motor Co.
Barra, who said she has never met Marchionne to discuss a deal, is at the Frankfurt show to help GM's Opel division in Europe introduce the new version of its Astra sedan, which already has 30,000 orders. The brand and its U.K. sister nameplate, Vauxhall, plan to bring out 29 models to reach an 8 percent market share in Europe. That compares with the 6.7 percent that the GM units posted for the first eight months of the year, according to industry figures released today. (For more news from the Frankfurt event, see SHOW.)
Marchionne canceled plans to attend the Frankfurt trade fair because he's staying in Detroit for contract talks with the United Auto Workers union. The
outspoken CEO's stance gained support from Italian Prime Minister Matteo Renzi, who told local broadcaster La7 in an interview late Monday that he hopes Fiat Chrysler "will buy or make a deal with GM," while conceding that a tie up would be "very difficult."
Any further push by Fiat Chrysler for a merger is unlikely before the beginning of next year because the manufacturer is committed first to the spinoff of its Ferrari supercar division. The unit, the maker of the $320,000 F12berlinetta sports car, wouldn't contribute to cost savings from a merger, and the Agnelli family, the dominant shareholders in Fiat Chrysler, want to keep control of Ferrari, people familiar with the matter said early this month.
By contrast, the Agnellis are ready to have their 29 percent stake in Fiat Chrysler diluted in a potential deal to expand the company, John Elkann, a descendant of founder Giovanni Agnelli and the head of the family's business activities, told Bloomberg in a joint interview with Marchionne a year ago.
Before it's here, it's on the Bloomberg Terminal.
LEARN MORE