Glencore Selling New Shares in Plan to Raise $2.5 Billion
Placing to be underwritten by Morgan Stanley and Citigroup

Sale is part of debt-reduction plan announced early September
Glencore Plc, the worst performer on the U.K.'s benchmark stock index this year, is selling as many as 1.3 billion new shares to pay down debt and avert a credit-rating cut. The stock would be valued at $2.57 billion at Tuesday's closing price.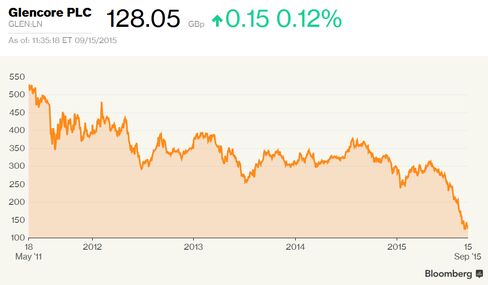 The Swiss commodities trader and miner requested a halt to trading of its shares in Hong Kong Wednesday pending an update on the sale announced Tuesday when Glencore's shares touched a record low in London. The offering represents 9.99 percent of Glencore's existing equity, it said.
The deal probably will price within a 5 percent discount to the 128.05 pence close in London, said a person familiar with the transaction, who asked not to be identified before results are made public. There is demand for all shares in the book build, although orders below 125 pence risk missing out, according to terms obtained by Bloomberg.
The transaction is part of a debt-cutting program Glencore announced last week that includes plans to sell as much as $2.5 billion worth of new stock, cut spending and halt dividends in a bid to reduce $30 billion of debt by a third. Glencore's billionaire Chief Executive Officer Ivan Glasenberg responded to some investors' worries that a debt-laden balance sheet can't withstand the rout in commodity prices.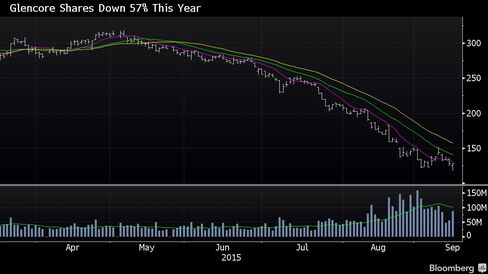 "Investor concern will shift from the debt-reduction measures to the longer-term sustainability of Glencore's business in the current commodity price environment," Goldman Sachs Group Inc. analyst Eugene King wrote in a note to clients.
Executive Stakes
Senior management at Baar-based Glencore including Glasenberg, the second-largest shareholder, have pledged to maintain their stakes as new shares are issued.
Glencore's shares rose 0.1 percent in Tuesday trading in London and had earlier touched 118.1 pence, the lowest since the company's $10 billion initial public offering in 2011. The company's shares in Hong Kong tumbled 7.6 percent Tuesday, to close at a record low of HK$14.80.
Morgan Stanley and Citigroup Inc. will underwrite 78 percent of the proposed share sale. Barclays Plc is also a book-runner on the sale.
Glasenberg and several senior managers and board members including Telis Mistakidis, Daniel Mate, Alex Beard, Tor Peterson and Chief Financial Officer Steve Kalmin have committed to take the remaining 22 percent.
Peter Grauer, the chairman of Bloomberg LP, the parent of Bloomberg News, is a senior independent non-executive director at Glencore.
Before it's here, it's on the Bloomberg Terminal.
LEARN MORE