Ferrari to Keep Loud Sports Cars in Snub of SUVs, Electric Autos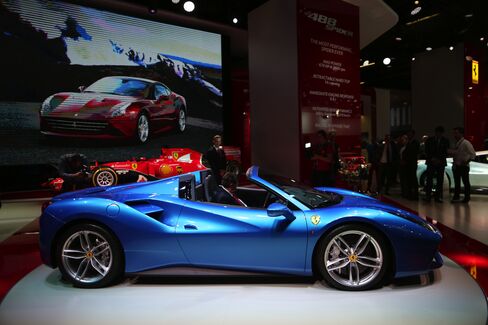 Ferrari wants to remain `coherent' with its supercar lineup

CEO says engine sound important enough to avoid battery models
Ferrari plans to stick to making high-end sports cars, avoiding following the crowd with a sport utility vehicle or an electric model, as the traditional engine growl is part of what customers pay for.
"We've been refining our concept of building two-door sports cars for 60 years, and one of Ferrari's strengths is to have always worked in a coherent way in a well defined segment," Chief Executive Officer Amedeo Felisa told reporters Tuesday in Frankfurt. "It's not that we're not planning an SUV for now -- we're not planning one at all." An all-electric car also isn't being developed because "one of the characteristics of Ferraris is the sound of the engine, and an electric car makes no sound."
True to form, Ferrari unveiled the 235,000-euro ($266,000) 488 Spider convertible at the Frankfurt International Motor Show. Its V8 engine propels the car to 100 kilometers (62 miles) per hour in as little as three seconds. (For more news from the industry event, see SHOW.)
The Italian manufacturer, which is being spun off by owner Fiat Chrysler Automobiles NV, is taking a different tack than its main competitors, which are entering new model segments to win customers who may not be interested in their more famous cars.
Volkswagen AG's Porsche unveiled a four-seat electric sports car in Frankfurt that accelerates faster than its main 911 model and charges in just 15 minutes, challenging U.S. producer Tesla Motors Inc. Volkswagen's Lamborghini supercar unit will introduce a high-performance SUV in 2018 in a bid to more than double deliveries.
Felisa, who turns 69 in October, declined to comment on his role at the carmaker. People familiar with the matter said in August Chairman Sergio Marchionne, who also runs Fiat Chrysler, may take over the Ferrari brand's CEO post when Felisa retires in coming months.
"I refuse to make any forecast on my future at Ferrari, as the last time I made one was in 1990, when I joined the company and told my wife I would stay three years and then leave," said Felisa.
Before it's here, it's on the Bloomberg Terminal.
LEARN MORE