Fed Liftoff Fears Spark Surging Demand for Higher Rate Hedges
Eurodollar futures traders are scrambling to minimize "Surprise Risk."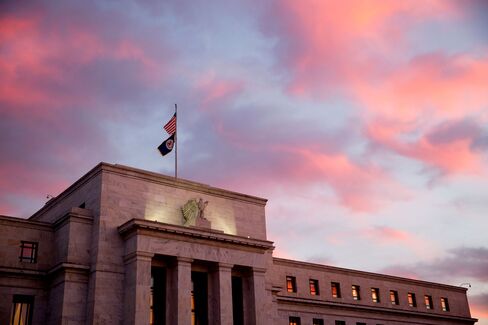 Traders on Tuesday appeared to decide that the risks of the Federal Reserve surprising them with an unexpected interest rate liftoff this week were too great.
That triggered a surge in demand for options -- known as puts and shown in the chart below -- that profit if yields implied by Eurodollar futures rise. These contracts, the world's most actively traded of all money market derivatives, are settled at expiration at the London interbank offered rate and have also for decades been used to speculate on changes in Fed policy. As the futures, which are quoted in price terms, fall, their yields rise.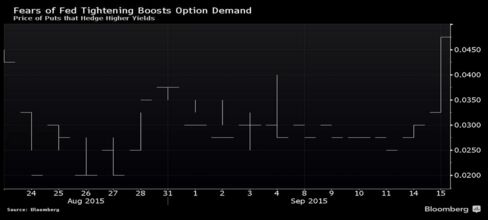 That option demand came as investors dumped two-year Treasury notes, due to the same concern about the start of the first monetary policy tightening since 2006. Yields on U.S. government debt reached 0.80 percent on Tuesday, the highest Tuesday since 2011.
"This is about concern that for the first time in many years there is a chance the Fed will actually hike," said Thomas Simons, government-debt economist in New York at Jefferies Group.
Before it's here, it's on the Bloomberg Terminal.
LEARN MORE