Fed Elicits Yawn From Russian Bond Traders Fixated on Oil, Ruble
Fed's decision won't trigger `significant' move in OFZs: Citi

Spread on Russian Eurobonds over U.S. rates at 2-month low
Even with U.S. interest rates set to rise as soon as Thursday, traders in Russian bonds say they're paying only scant attention to what the Federal Reserve has to say.
The decision won't trigger a "significant" move in the nation's debt because the "single most important factor" for investors is the oil price, Citigroup Inc. said this week. Undeterred by a possible change in U.S. policy, Russia sold all of the eight-year OFZ bonds offered in its first auction on Wednesday.
With many foreign investors long gone from the Russian bond market amid the freeze over Ukraine, crude prices, the path of domestic borrowing costs and the ruble are of greater importance in determining local sentiment toward OFZs, according to Veles Capital LLC. While a Fed surprise could roil emerging markets in the short term, central bank Governor Elvira Nabiullina said Friday she doesn't foresee a big increase in outflows.
"Speculative capital left Russia last year," Evgeny Shilenkov, the head of trading at Veles Capital in Moscow, said on Monday. "The Russian bond market is very locally driven now, liquidity is low."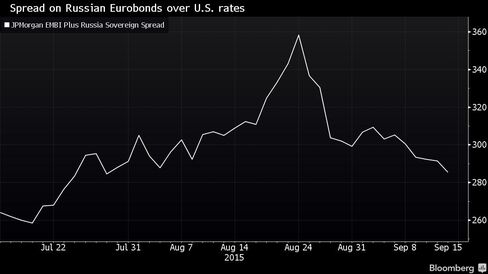 The difference in yield, or spread, between Russian Eurobonds and U.S. rates has narrowed to the least in 1 1/2 months amid a recovery in oil prices, JPMorgan Chase & Co. data show. The gap widened to the most since March three weeks ago amid a renewed decline in the commodity. Brent traded at $49.17 a barrel on Wednesday, 24 percent lower this year, while the ruble is down 7.1 percent versus the dollar.
The Finance Ministry offered as much as 14.2 billion rubles ($213 million) in two sales today, including December 2017 floating-rate notes and the August 2023 fixed-coupon debt, the Finance Ministry said on its website on Tuesday. It sold only 2.76 billion rubles of 6.39 billion rubles offered of the floating-rate bond.
While prices following the auctions could be influenced by what the Fed decides, any move lower will probably be contained, said Igor Kozak at TKB Investment Partners.
"I don't think OFZs will have a strong reaction if rates remain unchanged since most market players expect just that," Kozak, the head of fixed-income asset management at TKB in St. Petersburg, said by e-mail. If the rate goes up, "it's hard to estimate the depth of that drop, but I don't think it'll be significant," he said.
'Shut Out'
Traders have been scaling back bets the Fed Chair Janet Yellen will tighten policy tomorrow. The odds of a Fed increase were 32 percent on Tuesday, down from more than 50 percent last month before China roiled markets with a surprise currency devaluation.
"We see oil as the biggest risk factor for Russian assets," Viktor Szabo, a money manager who helps oversee $12 billion of developing-nation debt at Aberdeen Asset Management Plc in London, said by e-mail Monday. "From a macro point of view the dollar rate is less relevant for Russia now, as it is being shut out of the international financial market for new capital."
Capital outflows from Russia slowed 32 percent to $52.2 billion in the first eight months of the year, Nabiullina said Friday, after policy makers kept the benchmark rate unchanged at 11 percent following five cuts since December. Foreign ownership of OFZs stood at 20.3 percent as of July 1, down from 22.2 percent before Russia's Crimea incursion in March of 2014, central-bank data show.
"I don't see the Fed as a mover for Russian OFZs," Dmitri Barinov, who oversees $2.6 billion of assets at Union Investment Privatfonds GmbH in Frankfurt, said by e-mail Monday. "Positioning is very light and local investors dominate."
Before it's here, it's on the Bloomberg Terminal.
LEARN MORE