Plenty of people have lost big because of the oil price crash over the last year: rig workers, oil-company shareholders, OPEC government coffers. One massive constituency is benefitting universally: drivers.
The map below shows the change in gasoline prices from October 2014 to July 2015 in 76 countries tracked by Bloomberg. There's only one color scale because gasoline prices moved in only one direction: down. Declines ranged from 0 percent (light green) in Saudi Arabia, where prices are fixed, to 97 percent (dark green) in Venezuela, where a fleet of two dozen SUVs can now be filled up for less than a dollar.
Gasoline Prices Tumble Across the Map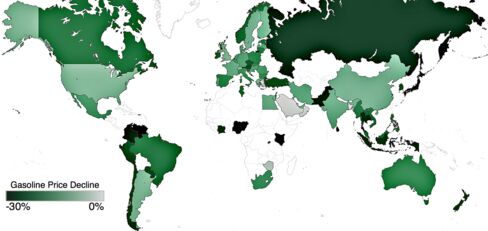 Gasoline prices vary, country by country, based on refinery conditions, changes in taxes and subsidies, and currency values. To create the best comparison, prices for the map were converted to U.S. dollars when the surveys were taken, so a strengthening dollar helped make the map even greener1.
On average, gasoline prices declined 15 percent. They still have further to fall, according to the U.S. Energy Information Administration. Last week the agency forecast U.S. gasoline to drop another 17 percent, to an average pump price of $2.03 a gallon by year's end. Gasoline prices typically fall after the end of the summer vacation driving season, but this year's decline could be the biggest since the recession.
See the Bloomberg Gasoline Price Ranking for a more detailed breakdown of prices and affordability by country: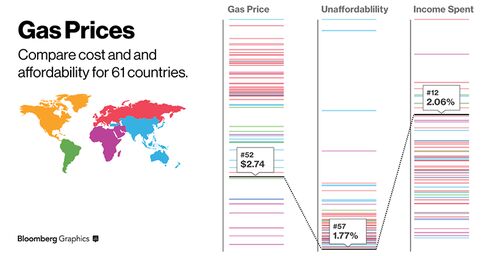 Before it's here, it's on the Bloomberg Terminal.
LEARN MORE