Draghi Matters More Than Yellen in Last Haven From Fed Risk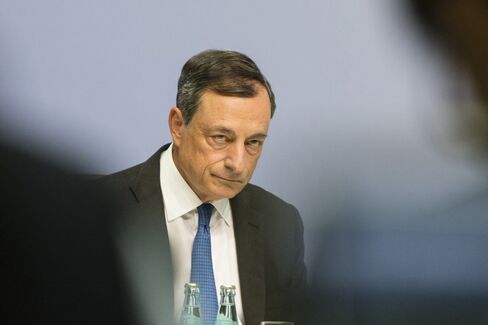 Fed increase would boost flows to east Europe: Commerzbank

Buy forint, zloty irrespective of Fed decision: Deutsche Bank
It's not all about the Fed -- not when you're sitting in eastern Europe at least.
While emerging markets just about everywhere else have tumbled on concern over the irresistible pull of rising U.S. interest rates, Polish, Hungarian and Romanian bonds and currencies have been gaining this quarter. The European Union's east will continue to outperform no matter what the Federal Reserve decides Thursday, according to some of the analysts who recommended this so-called haven trade weeks ago.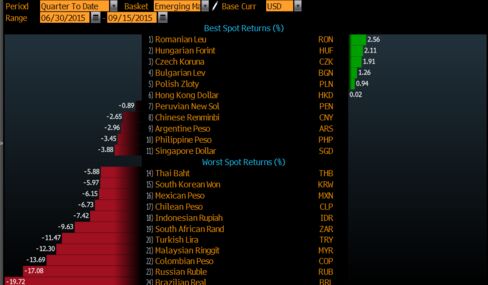 Underpinning their confidence is an assurance from Mario Draghi that the European Central Bank's 1.14 trillion-euro ($1.29 trillion) program of quantitative easing isn't about to end. That stimulus more than counters any fallout from the first increase in U.S. rates since 2006 that Janet Yellen might be about to deliver.
"A Fed hike would probably accentuate those flows as core central and eastern European countries are more dependent on what happens in the euro zone," Simon Quijano-Evans, the chief emerging-market strategist at Commerzbank AG in London, said Tuesday. He's been recommending clients hold overweight positions in the region's Eurobonds and local-currency debt for the past month. "Draghi is more important than Yellen for central and eastern Europe."
The ECB's president signaled willingness to increase stimulus measures to counter slower growth and inflation earlier this month. More than two-thirds of respondents to a Bloomberg survey this week predicted an expansion or extension of the euro area's quantitative easing. Annual inflation decelerated to 0.1 percent in August, the EU statistics office in Luxembourg said Wednesday.
Economic Benefits
It's not just divergent central-bank policies that are buoying the region's emerging markets. As net importers of oil, the region's economies have benefited from the 52 percent collapse in crude prices during the past year.

In contrast to the concerns over slowing economic growth from China to Brazil to Turkey, the Czech economy is set for a 3.7 percent expansion this year, matching Ireland for the EU's fastest pace, closely followed by Poland and Romania at 3.5 percent, according to forecasts compiled by Bloomberg.
A healthier economy will help Poland reduce its current-account deficit to 0.3 percent of gross domestic product this year from 8.1 percent in 2008. Hungary is on track for a surplus of 4.8 percent of GDP this year, the forecasts show.
By borrowing predominantly in euros or their own currencies, the region's governments are better insulated from higher debt costs resulting from the surging dollar.
"In the present environment of anemic growth, the region has been one of the few bright spots within emerging markets," Gautam Kalani, a London-based strategist at Deutsche Bank AG, said Tuesday. He's had bullish calls on the zloty and forint for the past month.
Irrespective of what the Fed decides, it's worth buying forint and zloty against the euro, while avoiding riskier currencies such as Turkey's lira or the South African rand, according to Kalani.
Top Performers
The top performers in emerging-market currencies this quarter are Romania's leu, Hungary's forint, the Czech koruna and Polish zloty, data compiled by Bloomberg show. Among the eight developing nations with best performing government bonds this quarter, seven are from eastern European nations, topped by Ukraine following its debt restructuring deal, and then Romania.
Traders have pared the odds of the Fed raising borrowing costs this month to 30 percent compared with more than 50 percent before China's yuan devaluation last month.
"We see this emerging European outperformance versus overall emerging
markets continuing in the absence of strong risk-taking appetite up until the Fed meeting and possibly beyond that," Gunter Deuber, a Vienna-based analyst at Raiffeisen Bank International AG, wrote in a report on Tuesday. Raiffeisen raised Hungarian and Romanian euro-denominated bonds to buy on Aug. 6 while paring Poland to hold.
Before it's here, it's on the Bloomberg Terminal.
LEARN MORE