Deutsche Bank: U.S. Treasuries Won't Be the First Victims of Quantitative Tightening
Watch out, Canada and Australia.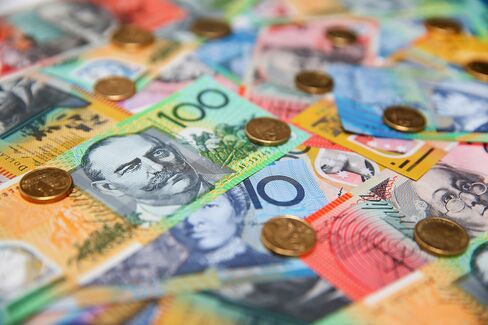 If central banks keep dumping their foreign reserves, the world's preeminent safe haven won't be the first asset to show signs of stress.
In a new note, Deutsche Bank, the original proponent of "quantitative tightening", elaborated on its thesis that China's foreign exchange policy is of paramount importance to financial markets, and the bank clarified some of the potential ripple effects stemming from a decline in the foreign reserve assets held by the world's second-largest economy.
Macro strategist Alan Ruskin clarified the effects that sales of sovereign debt by China's official sector would have, not only that asset class, but on others as well. Looking at available historical precedents, he found that these reserve depletions tend to be a symptom, not a leading cause of price action across financial markets.
"The environment this describes is one in which a negative shock to risk appetite places pressure on developing country currency pegs, and the outflows, are offset with reserve reduction to limit currency weakness," he wrote. "The negative shock for risky assets tends to pre-date the reserve declines."
The wild card is whether, in this case, the potential magnitude of reserve drawdowns could serve as a case of the tail wagging the dog or accentuate declines in financial markets.
While the discussion of quantitative tightening to date has centered around the impact on U.S. Treasuries, the strategist doesn't regard that asset as first in the line of fire.
"The U.S. arguably is the last place to look for the negative yield implications of an external reserve shock," asserted Ruskin. "Perhaps the most persuasive argument for being reasonably sanguine that reserve asset declines will not coincide with a large uptick in the safest bond market yields is based on the most recent experience, and the way the likes of U.S. Treasuries, have handled the opening phase of a turn down in reserves."
The strategist contends that this scenario could well play out as did the Asia crisis in the late 1990s and the 2008 financial crisis, with nominal yields on safe haven assets capped as real rates rise, while inflation expectations decline.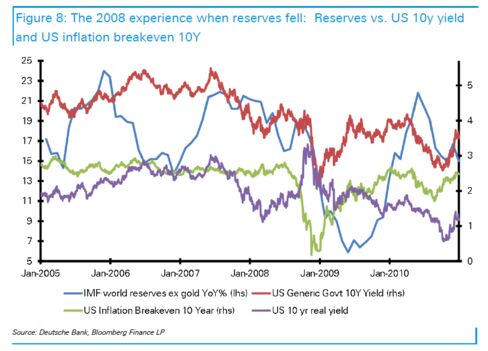 The strategist's reasoning is that an oil price decline precedes the divestment of reserves, and the price of crude is linked to inflation expectations.
"The inference here is that it is not reduced liquidity and restraints on money supply growth that lead to lower inflation expectations," Ruskin explained.
As such, for U.S. Treasuries, reserve drawdowns can be viewed as a countervailing force to their casual factors, in which "depressed price expectations limit the fall-out on nominal yields, but drive some increase in real yields," according to Ruskin.
Despite possibly hefty sales by the largest foreign holder of Treasuries, as well as from other reserve managers, the strategist still expects U.S. debt—which offers a more attractive yield relative to other major world currencies—to be well-bid by investors, with the private sector picking up some slack from the official sector.
If this plays out the way Ruskin thinks it will, he believes it would be a mixed blessing for riskier assets such as equities.
"The bad news is the likely increase in real yields suppresses the growth in nominal revenues and profits," he wrote. "The good news is that as long as nominal rates do not back-up this will contain the shift from risky assets into safer fixed incomes."
So what will come under particular stress in the event that reserves continue to be sold in size?
Ruskin posits that emerging market reserve managers could potentially take the "LIFO" (last in, first out) approach with regards to divestments:
"One would expect that less liquid global fixed income markets could be more negatively impacted than the U.S., and might be the early warning signal for other markets," he wrote. "Examples would be some commodity currency fixed income markets where developing countries have diversified their reserves (Australia or Canada perhaps) that are also vulnerable to the spillover from FX weakness."
In other words, Canadian and Australian government bonds could be heading for a rough patch, despite stimulus their central banks have deployed this year. The two countries share similarities both with emerging market economies and with each other. Notably, both Canada and Australia have housing markets in which the frothiness of real estate values is a major concern.
In Canada, the five-year fixed-rate mortgage is the dominant product, while Australians tend to lean toward longer-dated variable-rate mortgages. As such, households are exposed to a fair amount of interest rate risk over the medium term. Sales from reserve managers could offer an avenue for yields—and in turn, mortgage rates—to rise in these nations beyond what would be implied by the growth or inflationary outlook, thereby serving as a possible trigger for the long-prophesied housing corrections in these antipodes.
Something to keep an eye on.
Before it's here, it's on the Bloomberg Terminal.
LEARN MORE