China Names Veteran Diplomat to Lead Global Crime Team
Liu Jianchao to head `Sky Net' hunt for corruption suspects

Appointment shows willingness to work with foreign authorities
China named a veteran diplomat to lead its global hunt for fugitive former officials, people with knowledge of the matter said, part of the Communist Party's effort to improve cooperation with overseas law enforcement authorities in corruption cases.
Former Assistant Foreign Minister Liu Jianchao has been installed as director general for international cooperation at the Communist Party's Central Commission for Discipline Inspection, said the people, who asked not to be named because the move hasn't been publicly announced. The division of the anti-graft agency oversees Sky Net, President Xi Jinping's initiative to repatriate corruption suspects.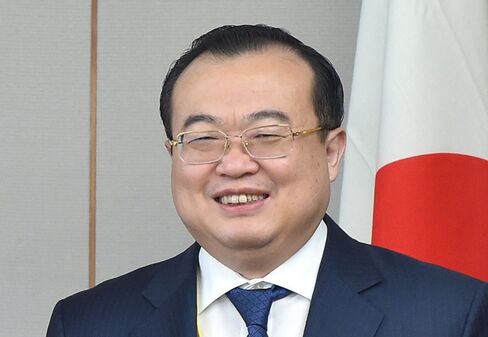 The appointment of the English-speaking, Oxford-educated Liu comes as China seeks greater international help in its efforts to track down fugitive officials as part of Xi's graft crackdown. The country lacks formal extradition pacts with many destinations popular among ex-officials, with 40 of the 100 "most wanted" fugitives announced by authorities in April believed to be residing in the U.S.
"The appointment is a signal that shows China will enhance its international cooperation during the next stage of the anti-corruption campaign," said Ma Chengyuan, a professor of international law at the China University of Political Science and Law. "As an official who built his career at the foreign ministry, Liu must have a better understanding of the rules of the international game."
Xi is expected to seek progress on the issue of Chinese fugitives with U.S. President Barack Obama during his state visit to the U.S. later this month.
Liu was previously the chief press officer for the Ministry of Foreign Affairs and served stints as ambassador to Indonesia and the Philippines.
His name was removed Monday from a list of senior officials on the ministry's website. On Tuesday, the State Council announced his appointment as deputy chief of the National Bureau of Corruption Prevention, a government job that corresponds to the post at the party-run anti-graft agency.
The Central Commission for Discipline Inspection's press office didn't immediately respond to three calls seeking comment.
Liu's predecessor in both jobs, Fu Kui, was last month put in charge of CCDI's provincial branch in Hunan. In an interview with Bloomberg Businessweek in May, Fu said U.S. officials have been more helpful on fugitives over the past two years but international cooperation remains a headache.
China's international pursuit of corruption suspects -- earlier dubbed Fox Hunt -- resulted in the repatriation of 680 former officials in the second half of last year, the official Xinhua News Agency said. The broader Sky Net focuses on cracking down on underground banks and confiscating misappropriated assets, in addition to rounding up fugitives.
Senior U.S. officials have privately urged China to provide more evidence on priority cases. The U.S. will require a high standard of evidence for the indictment of alleged fugitives, two U.S. officials told Bloomberg in May.
— With assistance by Keith Zhai, and Zheng Wu
Before it's here, it's on the Bloomberg Terminal.
LEARN MORE